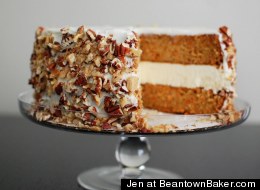 Since we gave celery recipes the spotlight recently, we figured it was only fair to give their partner in crime some time to shine. The amazing thing about carrot recipes is that they're never pinned down to one meal of the day. Carrots can be great for breakfast, lunch, dinner, dessert and even cocktails.
Everyone knows that carrots are loaded with health benefits, including tons of beta-carotine, which is especially great for your eye health. There. We've said it, and now you have a health excuse to eat this delicious root vegetable in any meal you please. Enjoy!
Orange Carrot Ginger Juice

Gimme Some Oven

Carrot Cake Pancakes

Monica Holland

Carrot Salad With Balsamic Dressing

Anthea Hanako/Food52

Vietnamese Pickled Carrots And Daikon

Simply Recipes

Roasted Carrots With Sesame Ponzu Vinaigrette

Steamy Kitchen

Moroccan Grated Carrot And Beet Salad

Simply Recipes

Carrot Scallion Latkes

elanaspantry/Food52

Roasted Carrot Soup

Sarah Shatz/Food52

Carrot Macaroni And Cheese

Tina Rupp

Glazed Carrots With Braised Bibb Lettuce

Sarah Shatz/Food52

Carrot Osso Buco

Lucy Schaeffer

Carrot-Potato Gnocchi

Frances Janisch

Miso Curry Carrots

Kristy Mucci/Food52

Potato And Carrot Gratin

Frances Janisch

Carrot Soufflé

Simply Recipes

Roasted Baby Carrots

Simply Recipes

Risotto With Carrots Four Ways

kmartinelli/Food52

Fish In Carrot Ginger Broth

Flat Art Studios

Chinese Daikon And Carrot Soup

Steamy Kitchen

Winter Root Vegetable Slaw

Simply Recipes

Carrots With Tahini Dressing

Quentin Bacon

Glazed Carrots With Cardamom And Ginger

John Kernick

L'Orange Ginger Carrot Cocktail

Ministry of Alcohol

Carrot Cake And Cheesecake Cake

Jen at BeantownBaker.com

Caramel Carrot Cake Bars

The Domestic Rebel

Carrot Halwa Ice Cream

Varsha Seetharam/Food52

Carrot Cake Whoopie Pies

Flat Art Studios

Carrot Cake Donuts

A Beautiful Mess
Want to read more from HuffPost Taste? Follow us on Twitter, Facebook, Pinterest and Tumblr.