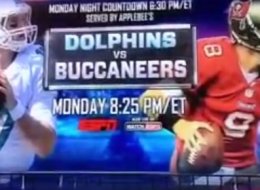 By Matt Yoder, Awful Announcing

ESPN's Mike Tirico is one of the best announcers out there. One of the reasons is because of his honesty with viewers. Monday Night Football has suffered from one of its worst stretches of games in its 40+ year history this season and it's not going to get any better next week with the winless Bucs playing the Dolphins, who are in the midst of the biggest controversy of the NFL season.
The Bucs are a mess. The Dolphins are a mess. And ESPN is still paying billions of dollars to the NFL for Monday Night Football, sooo maybe it's best not to talk about that.
Oh well, it'll all be worthwhile if Chris Berman can get Greg Schiano and Richie Incognito in the same room together for a sitdown interview.