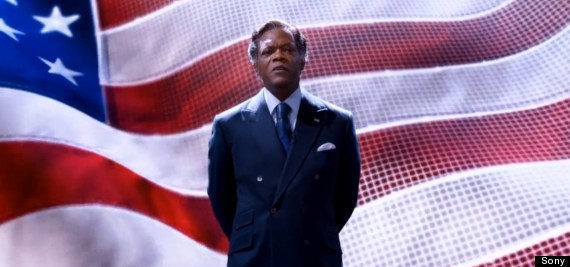 The new trailer for Sony's remake of "RoboCop" arrived on Thursday, showcasing the film's action-packed set pieces and a pair of likely scene-stealing performances from Michael Keaton and Jay Baruchel, among others. The biggest takeaway, though, is Samuel L. Jackson. "I play a character by the name of Pat Novak, who's sort of a combination of Rush Limbaugh and Al Sharpton, if you can combine those two people. So I refer to him as Rush Sharpton," Jackson said at Comic-Con this past summer. Yes to all of that and Jackson's hair and that American flag and everything coming out of his mouth. Change.org petition for a Pat Novak spinoff movie starts here.
"RoboCop" is out in theaters on Feb. 12, 2014.
SUBSCRIBE AND FOLLOW
Get top stories and blog posts emailed to me each day. Newsletters may offer personalized content or advertisements.
Learn more