A paralyzed Doberman who, against all odds, learned to walk and run again is reminding us this week of the extraordinary, rejuvinating power of second chances -- and the miracles that can be achieved when a community comes together.
In April, Kenny the Doberman lost the ability to move all four of his limbs after a kennel worker accidentally dropped a metal door on his neck. Doctors suggested that the injured animal should be euthanized. No one thought the pooch would ever walk again.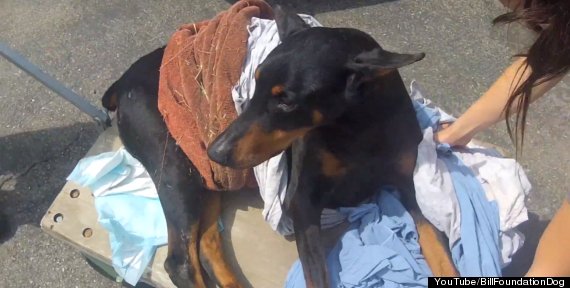 Kenny, who is believed to be 10 years old, had been living at Doberman Rescue in Los Angeles when the accident occurred. Unsure of what to do, the owner of the shelter turned to Leslie McMahon, founder of canine physical rehabilitation center Two Hands Four Paws.
"I took him [Kenny] straight to the neurologist, and she knew we didn't have the roughly $8,000 to do an MRI and surgery so she told us to just try rehab to see if we could get him up again," McMahon told The Huffington Post in an email Thursday. "For one very long month, we put in at least four hours of rehab a day trying to keep his muscles supple, putting him in the pool, doing massage, laser, acupuncture, assisted standing and assisted walking in the quad cart."
Kenny's limbs were so stiff that helping him to move proved "incredibly difficult," McMahon said. But she and her team tirelessly kept at it.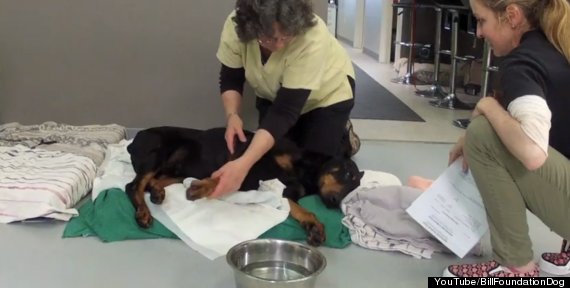 That is, until one terrible day, when it became clear that Kenny had lost the ability to urinate. "[It] became life-threatening, and we actually thought we would lose him because of this," McMahon explained.
Fortunately for Kenny, it was at this point that a group of strangers banded together to lend a hand.
Annie Hart, founder of Los Angeles-based animal rescue group the Bill Foundation, got wind of the injured dog's plight and shared his story with the group's friends and supporters via social media.
Hart told The Huffington Post that they raised a staggering $6,000 overnight for the pooch.
With this money, Kenny was able to undergo an MRI and then surgery. Doctors discovered, however, that the damage to Kenny's spinal cord had been extremely severe and warned that the dog might not survive, much less regain his full strength.
Thankfully, a very tenacious Kenny made it through the surgery, but just three weeks later, disaster struck again when he came down with pneumonia.
Kenny was raced to the emergency room and "it was scary touch-and-go for a few days," McMahon said. But yet again, the brave dog pulled through.
Even after Kenny recovered, however, he still had much to contend with. Worried that the dog's legs would not respond to treatment if they waited too long after the surgery, McMahon said that workers at Two Hands Four Paws "went into crisis mode."
"At times we had four people in the pool with him, each one 'walking' a leg to mimic the motion of movement," she said. "He probably got at least 25 hours of physical therapy a week, including acupuncture."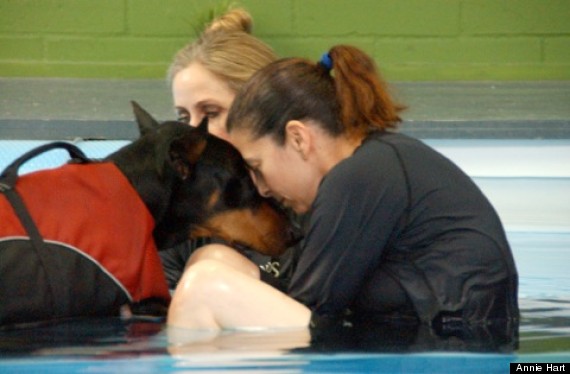 Still, despite all the work, McMahon was not optimistic.
"The fact that he had been down for so long before getting surgery was also not in his favor and ... I rarely see dogs walk again after being down that long. I frankly didn't think we would get this puppy up again due to his size and how bad his paralysis was and how long he had been down," she admitted.
But thanks to the tireless dedication of McMahon and her team, as well as the generosity of many strangers, Kenny made jaws drop in July when he took his first steps.
"It's nothing short of a miracle," Hart told the HuffPost of the pooch's recovery.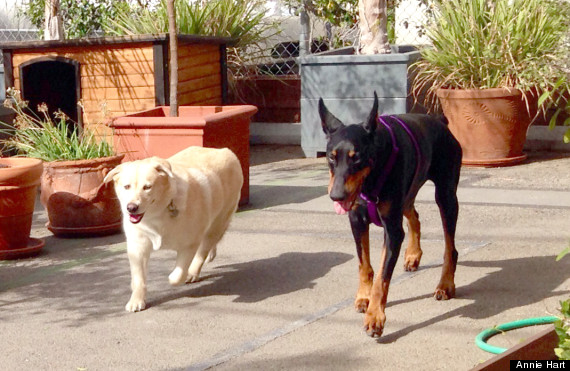 Today, McMahon says Kenny "runs around like a lunatic day in and day out."
"He's a completely different dog. He learned how to play, learned what toys are, learned what walks are and does all three all day long. He's just a joy to watch," she said.
Kenny is currently with a foster family and is looking for a forever home.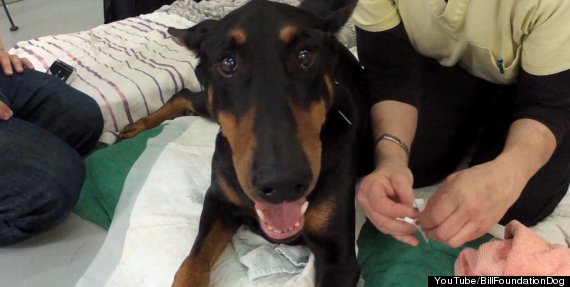 To learn how you can adopt Kenny, go to the Bill Foundation's website. Also check out the website of Two Hands Four Paws to learn more about the amazing work they do.
Also on HuffPost:
Loading Slideshow
Mom Cat Adopts Red Panda Cubs

<a href="http://news.bbc.co.uk/2/hi/europe/7498895.stm" target="_hplink">According to BBC News</a>, a Dutch zookeeper's cat adopted two baby red pandas after the cubs were rejected by their mother. The cat -- which had just given birth to a litter of her own kittens -- nursed the panda cubs alongside her own babies, giving them a chance of survival. The red panda is an endangered species that lives in Himalayan regions in China, Bhutan, Nepal, India, and Burma.

Mom Cat Adopts Squirrel, Teaches It To Purr

A rescued mother cat named Emmy adopted an animal in need of its own -- a baby squirrel named Rocky who fell out of a tree, <a href="http://www.huffingtonpost.com/2010/09/10/cat-adopts-squirrel-teach_n_712377.html" target="_hplink">The Huffington Post reports. </a> After Rocky was rescued by Emmy's owners and included in her litter, the mother cat immediately took to the little guy and cared for him as if he were one of her own. Incredibly, after being nursed back to health by his new mom, Rocky learned how to purr, just like the other kittens.

Golden Retriever Mom Adopts Three Bengal Tigers

Isabella, a golden retriever, adopted three white bengal tiger cubs after their mother abandoned them at a rural Kansas zoo, <a href="http://today.msnbc.msn.com/id/31541834/ns/today-today_pets_and_animals/t/tigers-say-bye-mom-dog-raised-them/#.T6BZGcRYvMA" target="_hplink">MSNBC reports.</a> The white bengal tigers thrived on Isabella's milk and grew into strong adults.

Cat Adopts Baby Raccoon

It was love at first sight for a mother cat and baby raccoon that -- by a stroke of serendipity -- were placed together in the same cage at the Jonesboro Animal Control, <a href="http://www.huffingtonpost.com/2012/04/03/mother-cat-jj-adopts-baby_n_1400863.html#s839858&title=Cat_Adopts_Three" target="_hplink">The Huffington Post reports. </a> Last month, a 10-month-old cat named J.J. arrived at the shelter in Jonesboro, Ark., with two tiny kittens in tow. On the very same day, a 2-week-old baby raccoon -- now called 'Bandit' -- was rescued by an Animal Control officer. The raccoon was having trouble eating and so, the officer placed it next to J.J., hoping that the mother cat would take to the little animal. J.J.'s maternal instincts quickly kicked in and she immediately started nursing and cleaning the little fellow, <a href="http://www.journalgazette.net/article/20120403/BLOGS22/120409885" target="_hplink">Associated Press reports.</a>

Cat Adopts Wolf-Cub

A wolf-cub in a Siberian zoo was adopted by a cat after it was rejected by its mother and was on the brink of death, <a href="http://www.youtube.com/watch?v=kWR_mLFo1-k" target="_hplink">RT News reports.</a>

Dog Adopts Farrow Of Wild Boat Piglets

A French bulldog named Baby has adopted six orphaned wild boar piglets after finding them in a forest near Berlin,<a href="http://www.youtube.com/watch?v=MO9FBW8Dlus" target="_hplink"> ITN News reports.</a>

Rescue Dog Adopts Baby Raccoon

"She's his momma," said veterinarian Dr. Kelly Hogan, referring to Sasha -- the rescue dog who adopted an orphaned baby raccoon. <a href="http://www.foxillinois.com/news/top-stories/Dog-rescues-baby-raccoon--121633389.html" target="_hplink">Fox News reports</a> that after Sasha was saved from the brink of death by a local rescue group, the dog soon returned the favor when she took in a baby raccoon that was brought to the same shelter, nursing it back to health and treating it as her own.

Cat Adopts Three Puppies

<a href="http://www.youtube.com/watch?feature=player_embedded&v=iUaHLdzSgpo" target="_hplink">According to U-Zoo</a>, a cat took it upon herself to nurse and protect three puppies after they lost their mom.