Cesar Delvalle, Chicago Man, Charged In Shooting That Critically Wounded 6-Year-Old Boy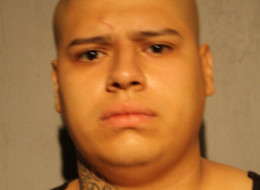 A 23-year-old Chicago man has been charged in the Wednesday shooting that wounded a 6-year-old boy.
Cesar Delvalle is facing three counts of attempted first-degree murder in the Nov. 6 shooting, the Chicago Sun-Times reports.
Delvalle has also been charged with aggravated battery and an additional count of discharging a firearm into an automobile, according to the Chicago Tribune.
Police have an additional person of interest in custody for questioning.
The 6-year-old was sitting near to his 7-year-old brother in the backseat of a car driven by their 19-year-old brother when he was shot three times about 5:30 p.m. Wednesday in the 5600 block of South Mozart Street.
The shooting victim's two brothers were not wounded in the shooting, which was reportedly preceded by an argument with two men who had thrown bottles at the car.
The 6-year-old was taken in critical condition to Mount Sinai Hospital. The boy has undergone surgery for his wounds, according to DNAinfo Chicago.