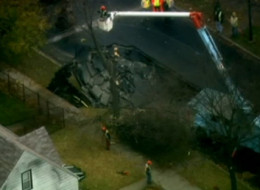 This one hasn't swallowed up three cars, but another massive sinkhole opened up Sunday evening on Chicago's South Side.
According to the Chicago Sun-Times, a water main break caused the sinkhole to eat a section of South Wentworth Avenue near 124th Street.
Though the sinkhole was initially small, area residents say it grew significantly overnight, NBC Chicago reports. It has now overtaken half the road and, as of Monday afternoon, it is still growing.
One resident told CBS Chicago she awoke Monday to the sound of the street collapsing and went outside to see the hole was now about 20-by-80 feet.
Residents on the block in the West Pullman neighborhood had their water temporarily shut off as the city worked to repair the broken water main.