Marissa Sargeant admits her 14-year-old son did a bad thing when he allegedly shoplifted, but she doesn't think he deserved to be roughed up by cops during his arrest.
The arrest happened last Tuesday when the boy -- whose name has not been released -- allegedly shoplifted goods from a Walmart in Tullytown, Pa., with two adult relatives.
She doesn't deny the charges, but said the arresting officers beat the teen so bad, he has a broken nose and two swollen eyes.
"What he did was wrong. He was coerced by a 19-year-old. He does know better," she said, according to the New York Daily News. "The picture speaks a thousand words."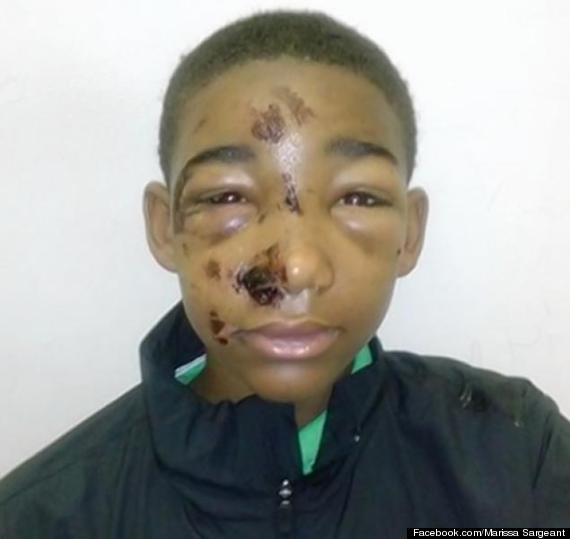 Bucks County District Attorney David Heckler said the officers yelled warnings at Sargeant's son before firing a Taser to subdue him. Police said the Taser struck the boy in the face and, since his hands were in cuffs, he fell face-first without being able to brace for the fall.
Sargeant doesn't buy the story.
"There's no way, if he was running from behind, that he would get hit with a Taser in the front of his face," Sargeant told NBC Philadelphia.
She suspects the officers hit or kicked her son and then told him not to tell anyone before they took him to the hospital.
Heckler told Philly.com that his office may interview eyewitnesses and possibly review footage of the incident taken on a police dashboard camera before proceeding further.
Meanwhile, Sargeant is posting photos of her son's injuries on Facebook in order to force an investigation.
"I just want some justice. I even pray for the police officers because they need help," she told NBC Philadelphia.

Tullytown Police Chief Dan Doyle said that a thorough review of the incident is underway but dismisses Sargeant's police brutality allegations and social media campaign.
"The police department is aware of the misinformation that has been circulating on social media regarding an arrest made by Tullytown officers," he told the Bucks County Courier Times.
Also on HuffPost:
Loading Slideshow
Kelly Thomas

FILE - This July 5, 2011 file still frame from security camera video, released May 7, 2012, by the Orange County District Attorney, shows an altercation between Fullerton police officers and Kelly Thomas at the Fullerton, Calif., bus depot. Thomas died days later. Two officers, Manuel Ramos, and Jay Ciccinelli, are on trial charges related to his death. Closing arguments are scheduled to begin Tuesday, Jan. 7, 2013. (AP Photo/Orange County District Attorney, File)

Oscar Grant BART shooting

Oscar Grant was shot by a Bay Area Rapid Transit (BART) police officer early on New Year's Day 2009 in Oakland, Calif. Cellphone footage shows BART cops struggling with Grant and forcing him to lay facedown on the platform after reports of a fight on the train. Officer Johannes Mehserle was seen shooting Grant in the back once, killing him. He was later convicted of involuntary manslaughter, but acquitted of second degree murder.

Rodney King Beating

In one of the most notorious cases of police brutality, a bystander recorded four Los Angeles Police Department officers beating Rodney King with their batons in 1991 after they pulled him over for driving erratically. When the videotape emerged days later of the attack, the four cops were charged with assault. A jury acquitted them, sparking riots in April 1992 that killed 55 people and led to 12,000 arrests over seven days.

Anthony Abbate

Off-duty Chicago police officer Anthony Abbate was<a href="http://www.huffingtonpost.com/2009/06/23/ex-cop-anthony-abbate-get_n_219651.html" target="_hplink"> sentenced to two years probation</a> and anger management classes after being captured on video beating a female bartender in 2007.

William Cozzi

Chicago police officer William Cozzi was sentenced to 40 months in federal prison after he was caught on camera in 2005 handcuffing a man to a wheelchair and beating him in a hospital. Cozzi claimed the victim -- a man who was seeking treatment for stab wounds -- had attacked him.

Christopher Long

A New York City police officer was <a href="http://www.huffingtonpost.com/2010/07/15/patrick-pogan-biker-shove_n_646517.html " target="_hplink">acquitted of assault and harassment</a> after being videotaped <a href="http://www.huffingtonpost.com/2008/07/28/critical-mass-bicyclist-a_n_115390.html " target="_hplink">knocking over cyclist Christopher Long</a> during a "Critical Mass" bike ride through Times Square in 2008. Patrick Pogan resigned from the police force and was found guilty of filing false documents after video emerged that contradicted his claim that Long swerved into him.

Ahmed Amadou Diallo

Ahmed Amadou Diallo, 22, seen here in an undated photo, was gunned down at his home in the Bronx borough of New York early Thursday morning, Feb. 4, 1999. Four white police officers from the elite Street Crime Unit fired 41 shots at Diallo, a black West African immigrant who had no police record and was unarmed. Diallo was hit 19 times and died instantly. The officers' lawyer says Diallo gestured with his hands, leading the police to think he was reaching for a gun.

Abner Loiuma

Abner Loiuma became a symbol of unchecked police force after the Haitian immigrant was sodomized with a broomstick by cops in a New York City police station in 1997. The officer responsible for the attack, Justin Volpe, was sentenced to 30 years in prison.

Ian Tomlinson

London newspaper vendor Ian Tomlinson died after police officer Simon Harwood hit him with a baton and <a href="http://www.huffingtonpost.com/2009/04/09/british-police-officer-su_n_185251.html " target="_hplink">knocked him to the ground</a> as he walked away from police during a G-20 protest in 2009. Harwood will stand trial in October for manslaughter, <a href="http://www.guardian.co.uk/uk/2011/jun/20/ian-tomlinson-death-officer-trial" target="_hplink">according to The Guardian</a>.

Michael Mineo

Michael Mineo accused an NYPD cop of sodomizing him with a baton after getting busted for smoking marijuana at a Brooklyn subway station in October 2008. A jury cleared the officer accused in the attack as well as two others charged with covering up the alleged assault.

Jon Burge

In this May 24, 2010 file photo, former Chicago Police commander Jon Burge departs the federal building in Chicago. Burge, whose name has become synonymous with police brutality and abuse of power in Chicago, was convicted in 2010 of perjury and obstruction of justice for lying in a civil suit when he said he'd never witnessed or participated in the torture of suspects.

Danziger Bridge Shootings

The trial is underway for four New Orleans police officers accused of killing two people and wounding four others in the shooting on the Danziger Bridge in the aftermath of Hurricane Katrina in 2005. The suspects, pictured left to right, are Robert Faulcon Jr., Robert Gisevius Jr., Kenneth Bowen, and Anthony Villavaso II.

David London

Security cameras in a Manhattan apartment building recorded NYPD officer David London hitting Iraq war veteran Walter Harvin almost 20 times with a baton even after he had handcuffed him. The incident began when Harvin entered the building without a key and refused to identify himself to London. Footage shows Harvin shoved London, but the cop lied to investigators by claiming that he'd been punched before retaliating with his baton. A jury acquitted London of assault and making false statements in 2010.

Eleanor Bumpurs

Eleanor Bumpurs, a 66-year-old African American woman, was killed by NYPD officers who were trying to evict her from her Bronx public housing apartment in 1984 for falling behind on her rent. City housing authority workers called in the cops, because they claimed that Bumpurs -- shown in an undated photo -- was mentally ill and that she menaced them with a knife while refusing to vacate her home. The officer who shot Bumpers twice with a shotgun was acquitted in 1987.

Sean Bell

The 2006 shooting of 23-year-old Sean Bell raised questions in New York City about the NYPD's use of excessive force. On what would have been his wedding day, Bell was shot and killed by police in a hail of 50 bullets outside a strip club in Queens. Officers said they thought the victim and his friends, who were celebrating Bell's bachelor party, were planning on retrieving a gun from their vehicle when they opened fire. After months of protests around the city, Officers Michael Oliver, Gescard Isnora and Marc Cooper were acquitted in 2008.