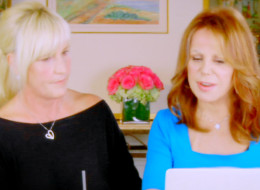 Consumer advocate Erin Brockovich joined me on Mondays with Marlo to discuss fracking and environmental pollution.
The process of fracking involves drilling into the ground at a high pressure and injecting fracking fluid, in order to fracture shale rocks and release natural gas. It's affecting many states, from Texas to California to upstate New York, and it's creating havoc. According to Erin, if you're concerned about local fracking, you can easily check online for information about how to prevent this spread.
"Lots of communities are starting to take charge, and I like that," said Erin. Many communities push back at the local level, demanding that fracking not take pace in their city.
The most important thing you can do, according to Erin, is to educate yourself on how fracking works, where it exists, and how you can get involved. "Get involved with city council meetings. Be proactive in your own life and your own community," she urged.
See below for more of Erin's accomplishments:
In 1993, Erin Brockovich played a key role in winning a major contamination suit, Anderson vs. Pacific Gas and Electric (PG&E). She was a struggling single mother and legal secretary at the time. In 2000, a film was made to share her amazing true story on the big screen. Julia Roberts, shown here in a strikingly similar pose to Erin, was cast to portray Erin.

Following the success of the film made about her life, a starstruck Erin poses for photographers at the 2000 Hollywood film premiere of "Erin Brockovich."

Following her celebrated PG&E environmental contamination suit win, Erin became a national spokeswoman and activist, appearing numerous times to raise awareness about chromium 6 levels in the San Fernando Valley water system. Here, Erin delivers a speech at the National Press Club in Washington, DC in 2001.

In 2001, Erin penned an inspirational memoir, 'Take It From Me: Life's A Struggle But You Can Win.' Here, she makes an in-store appearance at a Barnes and Noble to promote her new book in New York City.

The film "Erin Brockovitch" is based on families in the San Fernando Valley who were affected by polluted water caused by a nearby oil well for nearly three decades. Many people suffered from chronic health issues due to the contamination. Here, San Fernando Valley resident Leon Park sits on his porch with his family; they were all affected by the pollution.

Erin and lawyer Ed Masry were the two key players in winning the PG&E case. Here, they share a laugh at an impromptu news conference following their victory.

This oil well in Long Beach, California, reportedly had the world's highest oil production per acre by the mid-twentieth century. Erin and her boss, lawyer Ed Masry, alleged that fumes emitted from this oil well led to a 'cancer cluster' of nearby residents 20 times higher than the national average.

When Hollywood director Steven Soderbergh decided to create a movie chronicling Erin Brockovitch's incredible true story, the film became an instant sensation.

In both the film and true story, Erin is a struggling single mother and secretary who goes on to help win the largest settlement ever paid in a direct-action lawsuit in the U.S.

For the hit movie, Julia Roberts and Albert Finney were cast in opposite starring roles to play Erin and Ed. Correction: A previous version of this slide misidentified Albert Finney as Aaron Eckhart.

The film dramatizes Brockovich's rags-to-riches tale as a single mother and file clerk who discovered an environmental disaster in a seemingly ordinary real-estate deal. Roberts portrayed real-life Erin with charisma and passion.

Julia Roberts won an Oscar for Best Actress at the 73rd Annual Academy Awards for her heartfelt portrayal of Erin.

Erin now works as a legal clerk and environmental activist, playing a key role in representing consumers' rights following the success of the PG&E case.

Erin's work as an environmental advocate was far from over following the success of the PG&E case. In 2001, Erin testified before the Senate Health and Human Services Committee in Sacramento, CA to raise awareness about the detrimental effects of mold levels in homes.

In 2010, Erin spoke on behalf of concerned Oakvile, CA citizens about a gas power plant slated to be built beside residential neighborhood. She was invited by the Citizens for Clean Air Oakville. She continues her environmental activism today.
Add Marlo On Facebook:
Follow Marlo on Twitter:

Weekly Newsletter

Sign up to receive my email newsletter each week - It will keep you up-to-date on upcoming articles, Mondays with Marlo guests, videos, and more!

Sign up here