The story of a gay waitress who was reportedly denied a tip and received a homophobic note on a restaurant receipt took an even stranger turn when the family implicated in the incident came forward to deny the whole thing.
Dayna Morales, a Marine and server at Gallop Asian Bistro in Bridgewater, N.J., made headlines earlier this month when she posted an anti-gay receipt note on Facebook. In her post, she claimed a family came into the restaurant, called her by the name "Dan" and neglected to leave a tip. She claimed she found a note on their bill, reading, "I'm sorry but I cannot tip because I don't agree with your lifestyle & how you live your life."
"I am THOROUGHLY offended mad pissed off and hurt that THIS is what her kids will grow up learning and that I served in the Marines to keep ignorant people like them free," Morales wrote on Facebook.
The story was picked up by multiple news outlets and went viral. Thousands of dollars in donations came flooding in for Morales from all over the world. She later said she planned to give a portion to the Wounded Warriors Project.
Now, the family has come forward claiming it's a scam.
A husband and wife, who wish to remain anonymous, spoke with New York's WNBC and showed the network a copy of their $93.55 receipt, printed on the same day and the same minute as the one Morales photographed for Facebook. However, instead of a $0 tip, there was an $18 tip written on the customer copy presented by the family. To verify this further, the two also showed their Visa bill to prove they were charged a total of $111.55.
SIDE-BY-SIDE RECEIPTS FROM WNBC (Story continues below.)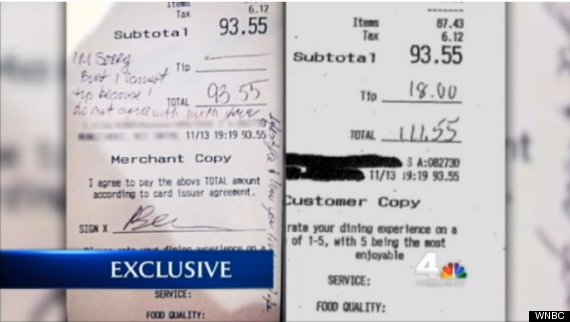 The wife claims it's not her handwriting on the bill posted online and thinks Morales "doctored up our check." The husband called it a "disgusting thing to do," "shameful" and "dishonorable."
When WNBC confronted Morales, she replied: "That's not my handwriting. I don't know. Again, I don't know."
"Right now we have no comment, pending an internal investigation," a spokesperson for the restaurant told The Huffington Post on Tuesday.
This is not the first time controversy has erupted over a receipt. In September, a Red Lobster waitress in Tennessee was allegedly left a racist message with the n-word in lieu of a tip. She received more than $10,000 in donations from supporters online. But, last month, the man accused came forward and denied he ever wrote the n-word on the receipt.
He now plans to sue the franchise.
Watch NBC's story below.
Related on HuffPost:
Loading Slideshow
An Iowa lesbian couple might have hoped to find a wedding cake that was both delicate and sweet, but they say <a href="http://www.huffingtonpost.com/2011/11/14/iowa-wedding-cake-lesbian-couple_n_1092789.html" target="_blank">their experience with a Des Moines-based baker</a> left behind a sour taste. As KCCI-TV<a href="http://www.kcci.com/news/29753206/detail.html" target="_hplink"> is reporting</a>, the owner of Victoria's Cake Cottage refused to bake a cake for Trina Vodraska and Janelle Sievers, who are planning a June wedding, because she is Christian. Victoria Childress, who runs her bakery from home, says it's her right as a business owner to turn away customers."I said, 'I'll tell you I'm a Christian, and I do have convictions.' And I said, 'I'm sorry to tell you, but I'm not going to be able to do your cake," Childress, who met the couple during a taste-testing appointment, said. "I didn't do the cake because of my convictions for their lifestyle. It is my right, and it's not to discriminate against them. It's not so much to do with them, it's to do with me and my walk with God and what I will answer [to] Him for."

A Phoenix-based lesbian couple cried foul after <a href="http://www.azcentral.com/arizonarepublic/local/articles/2012/02/28/20120228phoenix-sheraton-reach-out-ousted-lesbian-couple.html" target="_hplink">being told to "get a room" by a hotel restaurant manager</a> during a romantic dinner. <em>The Arizona Republic</em> says Kenyata White and Aeimee Diaz, both 38, chose to celebrate their two-year anniversary at the District American Kitchen and Wine Bar, located inside the Sheraton Phoenix Downtown Hotel, on Sunday because they met there. "My partner and I were reminiscing...in one of the tall booths," White told the paper. "I had my arm around her neck, and she had her hand around my waist. I gave her a hug for about a minute, pulled myself away to give her a quick kiss, and then we continued talking." White told AZ Family that <a href="http://www.azfamily.com/news/A-Lesbian-couple-is-kicked-out-of-a-Downtown-hotel-after-sharing-a-kiss-140801993.html" target="_hplink">she and Diaz were then approached</a> by a restaurant manager, who "came up to us and said we should get a room. That our behavior was inappropriate and we should leave the establishment."

Rose Marie Belforti, the town clerk in Ledyard, N.Y., drew national attention after refusing to issue marriage licenses to same-sex couples. The town's government is behind Belforti, saying it cannot force her to issue licenses.

A Florida-based lesbian couple said they were humiliated by their driver's license application "nightmare" after the Pinellas County DMV rejected their name change request after an hour-long wait.

The owner of a new gay bar on Seattle's Capitol Hill neighborhood said he was refused service because a printing company thinks homosexuality is wrong. The printing company's owner argued he didn't approve of the artwork on the promotional material.

Earlier this year, the American Civil Liberties Union (ACLU) filed suit against the Wildflower Inn in Lyndonville, Vermont after the proprietors <a href="http://www.huffingtonpost.com/joseph-alexander/a-change-is-gonna-come_1_b_1079932.html" target="_hplink">refused to host</a> Katherine Baker and Ming-Lien Linsley's same-sex wedding reception. As ABC <a href="http://abcnews.go.com/US/vermont-inn-sued-refusal-host-gay-couples-wedding/story?id=14110076#.TsFfOoBPkqU" target="_hplink">is reporting</a>, the inn updated its website shortly thereafter to announce it is "no longer hosting weddings or special events."

In August, Alix Genter, a lesbian bride-to-be, claimed to have been denied service at Here Comes the Bride in Somers Point, N.J., after the salon's manager said she didn't want to be associated with the pending "illegal action," <a href="http://articles.philly.com/2011-08-18/news/29900898_1_bridal-shop-dresses-gay-marriage" target="_hplink">according to the</a><em> Philadelphia Daily News</em>.