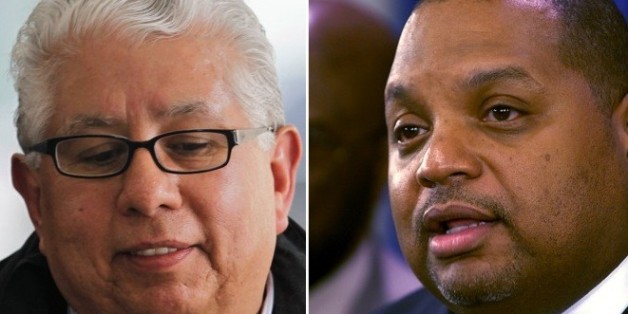 If Chicago continues to be dogged by corruption and the "Crook County" reputation, it's probably because stuff like this keeps happening: Two ex-convicts, both former players in city politics, have filed petitions to run for a seat on the Cook County Board.
Al Sanchez, Chicago's convicted former Streets and Sanitation commissioner, filed his petition Monday for the 4th District Seat; Ike Carothers, a convicted ex-City Councilman, filed his petition Nov. 25 for the 1st District Seat, according to NBC Chicago.
Sanchez is looking to fill the seat formerly held by disgraced Cook County Commissioner, William Beavers -- who just started serving out his six-month federal prison sentence for corruption on Monday.
Thanks to a 1999 ruling, by law both men are free to pursue their respective seats since neither is seeking office as a Chicago city official and felons may run for county, state or federal office; an ex-convict can run for an eligible office not connected to their crime.
Sanchez finished serving his 2.5-year federal prison sentence just five months ago, the Sun-Times reports. Sanchez served as Streets and San commissioner under former Mayor Richard Daley and also headed the powerful Hispanic Democratic Organization. He was ultimately convicted of rigging city jobs and promotions for mayoral allies in the "Hired Trucks" probe.
Carothers, meanwhile, served as the city's 29th Ward alderman for 11 years before resigning in 2010. Carothers' resignation coincided with him pleading guilty to bribery and tax fraud and was sentenced to 28 months in prison, the Tribune reports.
As of Monday evening, NBC reports 137 candidates had filed petitions to run in the March primary.
SUBSCRIBE TO & FOLLOW THE MORNING EMAIL
Start your workday the right way with the news that matters most. Learn more