Joe Manganiello wasn't always the buff werewolf you see today on "True Blood."
The 36-year-old actor stopped by HuffPost Live today (Dec. 3) to discuss his new book, "Evolution: The Cutting Edge Guide to Breaking Down Mental Walls and Building the Body You've Always Wanted," and revealed that he struggled with an alcohol problem in his 20s.
"There was a period of about four years where I needed to quit drinking. And the drinking got in the way [of my career]," he told host Alyona Minkovski. "And I talk about that a lot in the book. It was one of those obstacles that I had to get over and once again I needed to clear the road in order for these things to happen, so it really is an inside job. I had to clean up my act and figure that whole situation out."
When asked if he drinks anymore, Manganiello said, "No, it's been over 11 years."
"My life was ruined," he added of his struggle. "I was homeless, careless and broke with no career, so yes, it was worth it [to get sober]."
The 6-foot-5 hunk used his newfound strength to get healthy and take care of his body. Believe it or not, Manganiello was once a skinny little kid, as you can see in the below photo.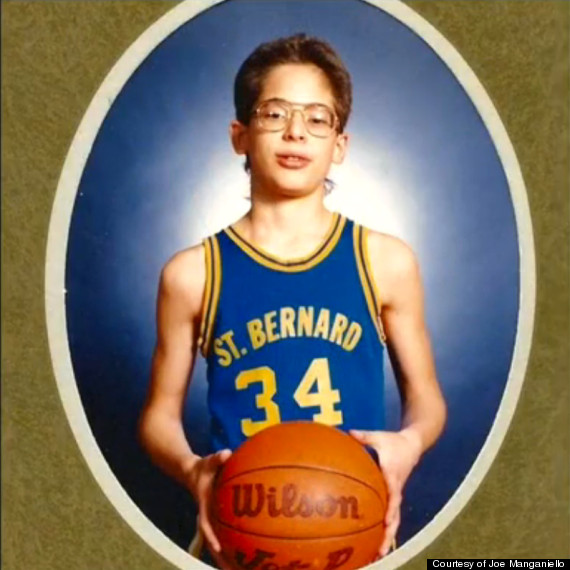 He told HuffPost Live that he was bullied as a teen, but that the pressure to be better made him stronger.
"Failure became a huge part of my success story," he explained. "Now, you hear about these soccer games kids play when goals aren't counted. Everybody gets the orange slice and the pat on the back and everybody says 'Good job!' And that wasn't the case for me and I think I benefited from that. I'm glad that I lost, I'm glad that I failed, I'm glad that I felt that way and decided to do something about it ... I never wanted to feel that way again and it drove me."
Also on HuffPost:
Loading Slideshow
Robert Downey Jr.

After years of struggling with cocaine and heroin addiction and serving jail time, the actor is clean and sober.

Amy Winehouse

Singer Amy Winehouse was found dead in her London home on July 23, 2011. The 27-year-old singer's life was cut short due to accidental alcohol poisoning. <em>CORRECTION: In an earlier version of this slideshow, the date Ms. Winehouse died was incorrect. She died on July 23, 2011.</em>

Lindsay Lohan

The 25-year-old actress has spent the last five years in and out of rehab and still stuggles to stay sober today.

Charlie Sheen

In February 2011 Charlie Sheen claimed he was clean of drugs and alcohol, but high on himself. The actor has publicity struggled with addiction for years, but many doubt his claims of sobriety.

Drew Barrymore

Drew was famously an addict as a child. By her own admission she said she had her first drink at 9, began smoking marijuana at 10 and began using cocaine at 12. By age 13 she entered rehab and has maintained her sobriety since.

Robin Williams

The comedian overcame a cocaine addiction, but headed back to rehab after 20 years of sobriety in 2006 to address his issues with alcohol.

Fergie

The Black Eyed Peas singer kicked a crystal meth and ecstasy habit.

Heath Ledger

An accidental overdose of prescription medication killed the actor on Jan. 22, 2008.