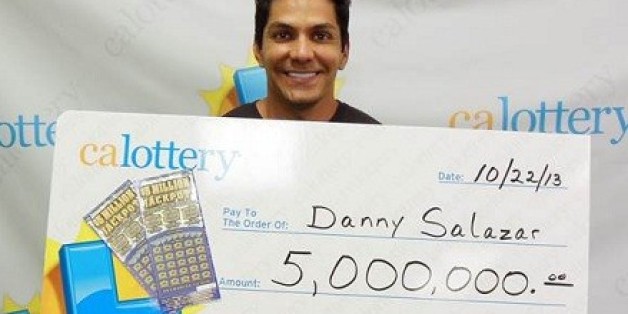 Perhaps Disney should changes its lyrics from "When you wish upon a star" to "When you wish upon a wall."
California hairdresser Danny Salazar recently wrote on a "Before I Die" art project wall, "Before I die, I want to win the Lottery."
Soon after, in late October, he won the $5 million jackpot of the California Lottery.
Adding another twist to what some might call fate, Salazar, 44, initially threw away the winning ticket, which he thought was a losing ticket. Then, this happened, according to the California Lottery:
A few days later, he had a couple other non-winning tickets that he wanted to enter into the Lottery's 2nd Chance Program, so he retrieved the ones he had thrown in the garbage. When he tried to enter the tickets on the website, it wouldn't accept the $20 ticket.

He couldn't figure out why, so he took it to The Grove in Los Angeles and checked it at the bookstore near the farmer's market where, unbelievably, the scanner told him it was a winner; and not just any winner, a $5 million winner!
"I was shaking. I almost lost the ticket," Salazar said to the California Lottery. "I actually threw it away. I threw away $5 million!" He said he has been playing the lottery since he was 18 years old.
Whether the win was fate, luck or persistence, Salazar said, "Going from someone struggling financially to having this happen is surreal, I am so thankful for this." He said he plans to buy a house or apartment and to save and invest the rest.

SUBSCRIBE TO & FOLLOW THE MORNING EMAIL
Start your workday the right way with the news that matters most. Learn more