 Harvard's survey of young Americans, like other recent polls, tracks a decline in support for President Obama and his health reform law. Democrats ran behind Obama in 2013, but a new model sees no "wave" coming in 2014. Also unlikely in 2014: repealing the 17th Amendment. This is HuffPollster for Wednesday, December 4, 2013.
MILLENNIALS LOSE FAITH IN OBAMA - HuffPollster: "Millennials are largely disaffected with politics, President Barack Obama and Obamacare, according to a new poll from the Harvard Institute of Politics, which finds a 'sea change' among adults under 30. Young voters strongly favored Obama in the past two presidential elections, and in the early years of his first term, millennials were significantly more likely than Americans in general to approve of his presidency. In the Harvard survey, however, only 41 percent of millennials approved of Obama's job performance, while 54 percent disapproved -- numbers that are nearly identical to the president's support among Americans of all ages….Millennials are also pessimistic about the effects of the president's signature health care law. The survey, which asked half of its respondents about 'the Affordable Care Act' and half about 'Obamacare,' found low approval regardless of the term used...But within the millennial age group, differences emerge. Those 25 to 29 years old, who came of age before Obama's election to the White House in 2008, are now more strongly Democratic than those 18 to 24 years old, according to the Harvard poll. Millennials in the older group were 16 points more likely to identify as Democratic than Republican, while the younger millennials were just 6 points more likely to do so." [HuffPost, Harvard]
-Pew Research's Mike Dimock: "New [Harvard IOP poll] poll got us thinking: sure Obama is down among #Millennials, but age gap remains." [@MichaelDimock]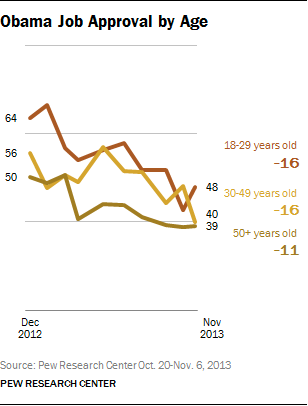 CNN finds more millennial hope for ACA - In a CNN poll released in November, opinion on the health care bill was split among those aged 18 to 34, with 48 percent supporting the law, 33 percent opposing it because it was too liberal, and 12 percent because it was not liberal enough. Younger Americans were also more optimistic on the law's prospects. Just 25 percent in that age group called the law a failure, compared with 40 percent or more in older age groups. Seventy-one percent said the law's problems would be solved, while 50 percent or fewer of older Americans predicted they would. [CNN]
'Recall' Obama? - The Harvard survey ended with questions on whether various political figures should be removed from office: "Additionally, we found that a majority (52%) of 18- to 29- year olds would choose to recall all members of Congress if it were possible, 45 percent would recall their member of Congress (45% would not) and approximately the same number [47%] indicate that they would recall President Obama (...46% not recall)." [Harvard]
-Pollster Nick Gourevitch (D) calls foul: "Question ordering matters. Pg 17 of this survey asking about an "Obama recall" a good lesson in how to juice a poll [link]...Pollster asked about rising student debt. Then the gov't shutdown. Then asked about recalling Congress. Then about recalling Obama. Hmm." [@NickGourevtich here and here]
How the survey was conducted - College age Americans have long been considered the most difficult population to reach, particularly via landline phone. Even in the days before cell phones, 18-to--24 -year-olds were far more likely to live in dormitories or with roommates or simply spend more time away from home than older adults. As technology has changed since their first survey of 800 college graduates in 2000, the biennial Harvard survey has undergone "a number of modifications have been made to the scope and methodology." Over the 12 year time span, the shifted from just interviewing college students to all 18-to--24-year olds, to all adults under 30, and from a telephone survey to a poll conducted via the Internet. Since 2009, the Harvard poll has used the GfK "Knowledge Panel," a pool of Americans recruited to complete surveys via standard telephone methods. The research company provides a laptop and internet service to those who lack it. [Harvard]
Some inconsistencies in demographics - Philip Bump: "The survey targeted people between the ages of 18 and 29. As The Atlantic's Garance Franke-Ruta noted on Twitter, 22 percent of those people responding to the Harvard survey said that their income was over $100,000 annually. Five percent reported making more than $175,000. As former Obama speechwriter Jon Favreau pointed out, that 22 percent figure is about twice what might be expected. And in 2012, people in that economic bracket overwhelmingly supported Romney...Update: Franke-Ruta got an answer on the money. The IOP asked about household income, not personal, but didn't reflect that in its documentation." [The Wire]
Google Plus? - "The weirdest data point," Bump writes, involves self-reported use of Google's social network, Google Plus: "According to the survey, the second most-common social network among people 18 to 29 is Google+ -- with a bigger user base than Instagram. Which Google would argue is legit, since its self-reported user numbers include activity every time someone clicks the GMail notification button. But did you know that? Thanks to the network's tiny amount of activity, The Atlantic's Alexis Madrigal once called Google+ 'an abandoned city in the desert.' Is it possible the 27 percent of young people indicated they have Google+ accounts because they know that one is set up for them when they get a GMail account? It is possible. Is this still very, very weird? Yes." [ibid]
Just a "+" - Remember, Harvard conducted this survey over the internet, and respondents read the questions as text on their computer screens. In this case, they were asked whether they had an account on "Google+". Some may have simply overlooked the plus sign and answered "yes" thinking the question applied to their Google email account.
THIS YEAR'S DEMOCRATIC CANDIDATES RAN BEHIND OBAMA'S 2012 MARGINS - Sean Trende: "Probably the most troubling indicator for Democrats right now as we inch toward the midterm-election season: The drop-off in Democratic performance in elections this year -- Democrats have been running three to five points behind Obama's 2012 showing with surprising consistency...What does this mean for 2014? Possibly nothing. There is a lot of football left to be played, the president's job approval rating could rally significantly, the Democrats could become enthused, and drop-off could become a non-issue. But if that doesn't happen, Democrats have a real headache coming on. Let's assume they can expect a drop-off of four to five points from Obama's 2012 performance, all other things being equal. Twenty-eight House Democrats occupy seats where Obama won less than 55 percent of the vote. More disturbingly for Mr. Jackson's Party, 13 Senate seats fall into this category. This is consistent with what we've seen in polling: Democrats putting up terrible numbers in places like Louisiana, Arkansas and North Carolina, while races in states like Michigan and Iowa are looking surprisingly tight." [RCP]
FORECASTING MODEL PREDICTS 'NO WAVE' IN 2014 - John Sides: "An early version of [The Monkey Cage's] forecasting model suggests that there will be only a small shift in House seats in 2014 — one more likely to advantage Republicans than Democrats, but one that will fall far short of a wave...At this moment, the model predicts that Democrats will win approximately 48 percent of the national popular vote for the House. The model also predicts that Democrats will win 196 seats, for a loss of 5 seats. That may seem like a small loss for the Democrats — perhaps 'too small,' given the rocky rollout of Obamacare and the loss that the president's party typically sustains in midterm elections. But there aren't that many Democratic seats for the taking, thanks to the Republicans' huge gains in 2010." [WaPost's Monkey Cage]
LITTLE GOP SUPPORT FOR REPEALING 17TH AMENDMENT - Emily Swanson: "Repealing the 17th Amendment -- and returning to the days when U.S. senators were elected not by the people but by state legislatures -- is an idea that has gained popularity in some right-wing circles in recent years. This week the conservative American Legislative Exchange Council may throw its support behind model legislation that would dramatically weaken the amendment. But according to a recent HuffPost/YouGov poll, attacking the 17th Amendment has little appeal outside the most conservative circles. It's even very unpopular among Republicans as a whole….The HuffPost/YouGov poll found that, so far at least, Republicans have not been persuaded: 83 percent of them said they preferred the popular vote for Senate elections (only 12 percent favored election by state legislatures) and 73 percent of them said the 17th Amendment should remain in place (18 percent favored repeal). Support for repealing the 17th Amendment was higher among self-identified 'very conservative' respondents and those who consider themselves members of the tea party." [HuffPost]
WANT TO JOIN THE HUFFPOLLSTER TEAM? - We're looking for a full-time, paid intern this winter/spring to help us cover the 2014 election. [Apply here]
HUFFPOLLSTER VIA EMAIL! - You can receive this daily update every weekday via email! Just enter your email address in the box on the upper right corner of this page, and click "sign up." That's all there is to it (and you can unsubscribe anytime).
WEDNESDAY'S 'OUTLIERS' - Links to more news at the intersection of polling, politics and political data:
-North Carolinians are in the dark about their state's "sunshine" laws. [Elon]
-Kathy Frankovic reviews the trends on Barack Obama's job and favorability ratings. [YouGov]
-David Hill (R) sees practical personal economics driving greater cynicism about politics among younger voters. [The Hill]
-Mark Mellman (D) ponders the polling whiplash of recent months. [The Hill]
-Nathan Gonzales reports DCCC stockpiling cash for 2014. [Roll Call]
-Geoff Garin (D) says ACA repeal is a loser in competitive House districts. [WaPost's Plum Line]
-College students in North Carolina are surprised to receive a survey via snail mail. [Romenesko]
-Absolutely everyone other than you is starting new, exciting phases of their lives and careers, according to fake Pew Research. [The Onion]