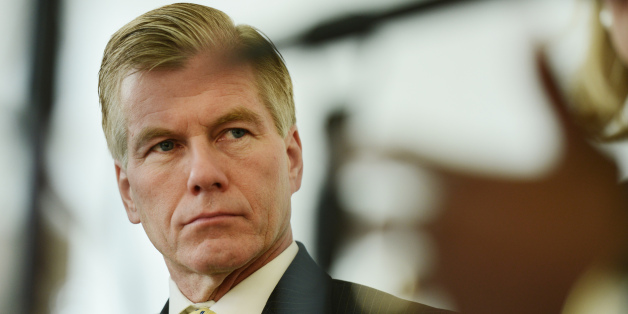 As he serves out the final weeks of a scandal-tainted term, Virginia Gov. Bob McDonnell (R) lamented troubles tied to a federal investigation into gifts and loans from a wealthy donor.
In an interview with the Washington Post published Thursday, McDonnell discussed how during his 37 years of public service and 22 years in elected office, he had never been accused of such an "impropriety."
"This has been both a heartbreaking and humbling period of time for me and for my family," McDonnell told the paper. "But what I can control is how I react to things and what I can control is how to make Virginia a better state."
Just a few short years ago, McDonnell was poised to play a large role in the national GOP political picture. Last week, the Associated Press noted how fast an ascent the governor had during his first term, from his Republican response to President Barack Obama's 2010 State of the Union Address, to his 2011 role as chairman of the Republican Governors Association.
Thanks to Virginia's Reconstruction-era rule in its state constitution, governors can only serve one term. With his four years nearing an end, McDonnell recently told the AP that after being governor "there really aren't a whole lot of offices that excite you."
Also on HuffPost:
Bob McDonnell Through The Years
SUBSCRIBE AND FOLLOW
Get top stories and blog posts emailed to me each day. Newsletters may offer personalized content or advertisements.
Learn more