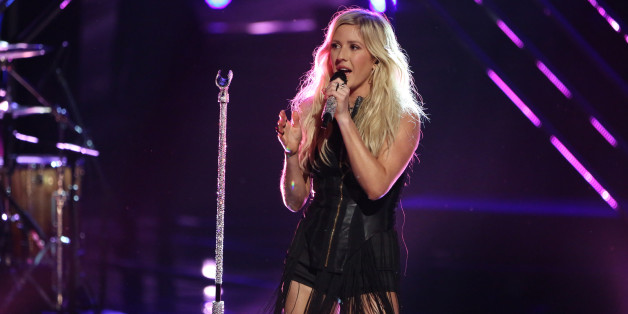 British songstress Ellie Goulding, 26, gets candid in Cosmo UK's January issue, in what the magazine says is one of their most revealing interviews to date.
Though in the U.S. Goulding is known as the "electro goddess" who had a seven–month relationship with Skrillex, in the U.K. she's still considered the sweet, energetic blonde with small town roots who performed at the Royal Wedding. Now, following up on her interview with the British Telegraph last year where she revealed her "dark side," Goulding elaborates for Cosmo.
"I went through a time of being quite insecure," she tells the magazine. "I'd convinced myself I was fat; I didn't like my figure and I had a big nose. Now I've finally got to a place where I don't focus on those things. I feel like I'm not changing for anyone; I'm doing it all for myself. Because there's no one else to do it for."
The "Lights" singer also opens up about her anxiety issues, describing her first horrifying experience with a panic attack: "I was so scared, I reached over to this woman and said, 'I think I'm dying.' I called a friend to take me to hospital, where they told me it was just a panic attack. From that day, I kept having them. It was the weirdest time of my life. Sick, horrible things would go through my mind but I didn't want to draw attention to myself … It got to the point when I couldn't even get into the car and go to the studio."
"Then I went to see an amazing woman to have CBT [Cognitive Behavioral Therapy], and she flushed everything out. It took a lot of going back to my childhood. With the help of things like Diazepam in small doses to relax me at certain times, the attacks slowly stopped and now I'm through it."
For more with Goulding, head over to Cosmopolitan.co.uk or pick up an issue, on newsstands today. She'll also be touring North America this spring.