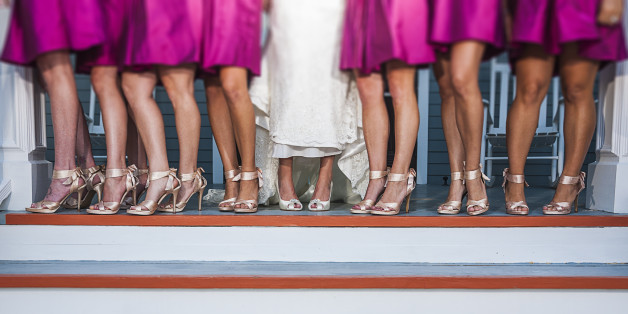 Being a bridesmaid is a lot of work. And with the stress (and expense!) of buying shoes to match an awkwardly colored dress, planning showers and booking travel, it's easy to get bogged down in all the bad and forget about the good. But it's important to remember that being in a wedding party is not just a privilege -- it's downright fun! Here are eight reasons why:
1. It's a huge honor. When a close friend decides to make you a major player in the most important day of her life, it's very flattering. Despite any "burdens" that come with bridesmaid duty (money, travel, time, hair requirements), it's a privilege to know that your friend values your presence on such a momentous occasion. Return the favor by saying, "Thank you. I'd love to. What do you need?"
2. The dress is actually code for VIP. We all love to complain about bridesmaids dresses -- they're ugly, they don't fit right and no one ever wears them again, despite what the bride tells you. But it doesn't matter, because the dress has magical powers. It's a VIP uniform that says "I'm best friends with the bride" and usually inspires guests to approach you and want to become your best friend too.
3. There's no party like a bachelorette party. As an esteemed member of the wedding party, not only do you get to help plan the bachelorette party, you get to partake in all its glory. It's your chance to drink out of penis straws, play silly games and celebrate love. In fact, the last bachelorette party I attended ended with a Swedish billionaire buying us girls $100,000 in Champagne at a NYC nightclub because we looked like we were having an awesome time. That never happens at regular parties.
4. You'll get professional photos taken, free of charge. Couples spend a lot of money on their wedding photographers because it's a day they want to remember forever. As part of the wedding party, you'll likely have professional photos taken without dropping a dime. Sometimes the bride even springs for hair and makeup.
5. You get to witness precious, life-changing moments that others don't. When you're a bridesmaid, you get the privilege of experiencing all the behind-the-scenes hoopla that goes into a wedding, and there's nothing quite as wonderful as watching your best friend get ready to walk down the aisle. The joy, the nervous smile, the excitement -- it's truly magical to be a part of something so sacred and to know that someone you love found their happily-ever-after.
6. Brides like to say "thank-you" with awesome swag. Not that you should ever be a bridesmaid for the gifts, but brides are usually pretty appreciative and show it with some thoughtful presents in the form of bags, jewelry, makeup or gift cards. And since they're your good friend, they usually know what you like.
7. You'll get the best seat in the house. Bridesmaids get to sit at the primo tables with the rest of the wedding party rather than shoulder-to-shoulder with some random third cousin the bride didn't even want to invite. It's a boisterous dinner with all your best friends and free-flowing wine. What could be better?
8. You get more wedding bang for your buck. Weddings are expensive for all the guests -- think plane tickets, hotel rooms, wedding gifts -- and when you're in the wedding party, the expenses are even higher. The bright side? You also get to partake in more activities like rehearsal dinners, cocktail hours, pre-wedding fiestas and a post-wedding brunch, which are all usually really fun. Everyone else is squeezed into some four-hour time frame and that's it -- wedding over.
So the next time your friend calls and invites you to join the wedding party, thank your lucky stars because you're about to have a kick-ass time.
Keep in touch! Check out HuffPost Weddings on Facebook, Twitter and Pinterest.
ALSO ON HUFFPOST:
PHOTO GALLERY
BEFORE YOU GO
Must-Have Bridesmaids Dresses Under $250
PHOTO GALLERY
Must-Have Bridesmaids Dresses Under $250