By Zachary Fagenson
MIAMI, Dec 9 (Reuters) - A 5-day Miami Beach art show broke sales and attendance records this week, helping to boost the city's image as a cultural hub, as international galleries displayed an estimated $3 billion of paintings, photographs and sculptures at the 12th annual event, organizers said on Monday.
Art Basel, and the dozens of fairs alongside it, appears to have cemented the week as one of the world's top art gatherings, with many hailing it as the most successful yet, both in terms of artistic quality and revenue.
An undisclosed collector purchased a work by sculptor Jeff Koons from New York City-based David Zwirner Gallery for $8 million. White Cube Gallery, which has showrooms in London, Hong Kong and Sao Paulo, sold "Devil's Gate" - an 8-foot-by-8-foot glass shadowbox with rows of preserved insects and spiders - for $3 million.
A decade after opening, Art Basel and the fairs that surround it have expanded their scope beyond multimillion dollar pieces created by prominent western contemporary artists. This year featured the first Brazil ArtFair, solely dedicated to art emerging from Latin America's only Portugese-speaking country.
Additionally Art Basel's launch of a Hong Kong fair in May 2013 has also unearthed wealthy Asian collectors keen on building collections featuring artists from around the world.
Many of the artists and collectors from emerging economies have also expanded their interest and marketability beyond their usual areas.
"We had Americans from Indiana who bought an early (Rufino) Tamayo work," said Mary-Anne Martin, whose New York City gallery specializes in modern and contemporary Latin American art. "We were not only selling Latin American art to Latin Americans, which if you're a dealer is nice to not have to depend on Bolivians to buy Bolivian or Mexicans to buy Mexican."
Art Basel Miami Beach, a spinoff of the art fair held annually in the Swiss city of the same name for decades, first opened to the world in 2002. While the fair, featuring 258 leading international galleries from across 31 countries, serves as a platform for galleries to sell to prominent collectors, the week surrounding it is packed with posh parties at chic hotels sponsored by high-priced clothing, jewelry and car companies.
"Miami seems to have checked its reputation as a week-long party with a bit of art thrown in," said Lucinda Bredin, editor of Bonhams Magazine, part of the London-based auction house.
"This year, art was at the forefront. The quality of works brought by the galleries was remarkable - as were the shows mounted by Miami fixtures such as the Margulies and Rubell Collections," she added.
The fairs have played a critical role in helping Miami reinvent its image as a sun-and-surf city devoid of culture. The Wynwood neighborhood, a once-blighted area just north of downtown Miami, is now home to graffiti murals by world famous artists and galleries that attract collectors from around the world.
An estimated 50,000 visitors fly into Miami for the fair. Art Basel reported 75,000 visitors while ArtMiami, now in its 24th year estimated 72,500 visitors, and more than $100 million in sales, up from $80 million in 2012.
"We are still doing the tallying but many galleries are telling me they did twice as well this year," said Nick Korniloff, director and partner of Art Miami LLC, organizers of three satellite fairs with 243 exhibitors.
"This year more blue-chip works were at the fair from more galleries with very strong international art fair pedigrees," he said. (Editing and additional reporting by David Adams)
ALSO ON HUFFPOST:
PHOTO GALLERY
BEFORE YOU GO
Art Basel Miami Beach 2013
PHOTO GALLERY
Art Basel Miami Beach 2013
12/09/2013 11:05 AM EST
The 10 hottest artists at Art Basel Miami Beach
From HuffPost Arts & Culture's Priscilla Frank comes the ultimate list of standouts, including Juan Genoves (below) and his textural globs that formed a "miniature craft graveyard." Read the whole list here.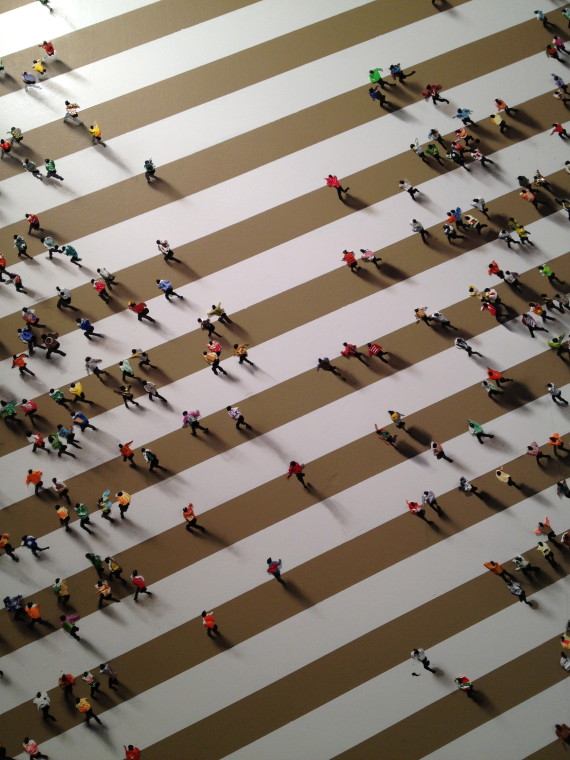 12/09/2013 9:56 AM EST
"At Basel, cocaine does the best"
A "gorgeous, Jewish, white boy" drug dealer opens up to Vice about what Basel means for his trade -- and how to tell the difference between visitors:
"People from California wear open, flow-y shit, and people from NYC are upright and uptight...

"At Basel, cocaine does the best. Weed and MDMA also get good sales. I'm not sure if you know and I probably shouldn't tell you, but MDMA is synthetic and fake here. It's all methylone—just bath salts. I should technically encourage people not to buy it, but I won't."
Gah! Read more at Vice.com.
12/09/2013 9:40 AM EST
This many people went to Art Basel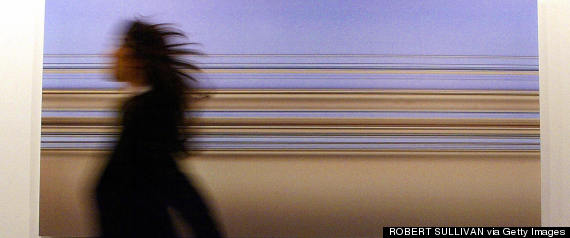 The 2013 edition of Art Basel Miami Beach drew an attendance of 75,000 over the five show days, according to a press release from fair organizers.
That's a seven percent increase over last year, good news for the fair's economic impact to the Miami area. And it doesn't even include visitors to satellite fairs and exhibitions.
Sales, too, were good, according to gallerist Peter Macgill.
"This is our first year as an exhibitor at Art Basel in Miami Beach and we just loved being here," MacGill, of Pace/MacGill Gallery in New York, said in a statement. "I think it was good for our artists to be exposed to this enormous and enormously diverse crowd.. Our sales have been great."
Others said this year's fair was a triumph of content.
"I've participated in Art Basel in Miami Beach since its inception in 2002 and without any
exception, this is the most successful of all its editions in terms of quality, conversations,
volume of visitors and new audiences," said a statement from New York gallerist Sean Kelly.
'We have been very impressed by the quality of collectors attending this year, and by the number of curators and museum groups," said London's Sadie Coles of Sadie Coles HQ. "The fair feels very focused, and there are some wonderful booths. Art Basel in Miami Beach is unmissable for galleries like ours and is now maturing and deepening in a very impressive way. Business here is broader than it was before – we have had success here with both our more established and our younger artists. It wasn't always like that."
12/09/2013 9:31 AM EST
More Basel fashion
We're floored. A round of applause for the 75,000 stylish people who attended this year -- and their shoes.
12/09/2013 9:27 AM EST
High demand
The Art Newspaper takes a look back at the Worst Art Basel Ever -- that'd be the 2008 edition -- and crows about this year's high demand:
Now, it seems that the good times are back: Wednesday's VIP preview of the fair "was the best-attended opening I can remember in Miami", Bell says. "People were running to our booth," says Glenn Scott Wright of Victoria Miro (M9), where sales included Yayoi Kusama's Flowers That Bloom Tomorrow, 2010, priced around $500,000. Meanwhile, Greene Naftali (E2) has had its most successful fair ever, Carol Greene says. The gallery sold four colourful mattresses by Guyton/Walker (all Untitled, 2013) for $65,000 each to collectors from the "four corners of the world".

With such high demand, "finding inventory" is something that worries everyone, says Gordon VeneKlasen at Michael Werner Gallery (C10). "That's why so many galleries have taken on 50 artists; so they have something to show at the 50 art fairs they do," he says. The gallery's sales included the $1.4m paid for a mixed-media work on paper made in 1999 by the late artist Sigmar Polke.
12/09/2013 9:24 AM EST
LOOK: Celebs at Art Basel
So many stars, from Martha Stewart to Steven Tyler to (ugh) Paris Hilton. Check out our slideshow of Hollywood hitting the beach here.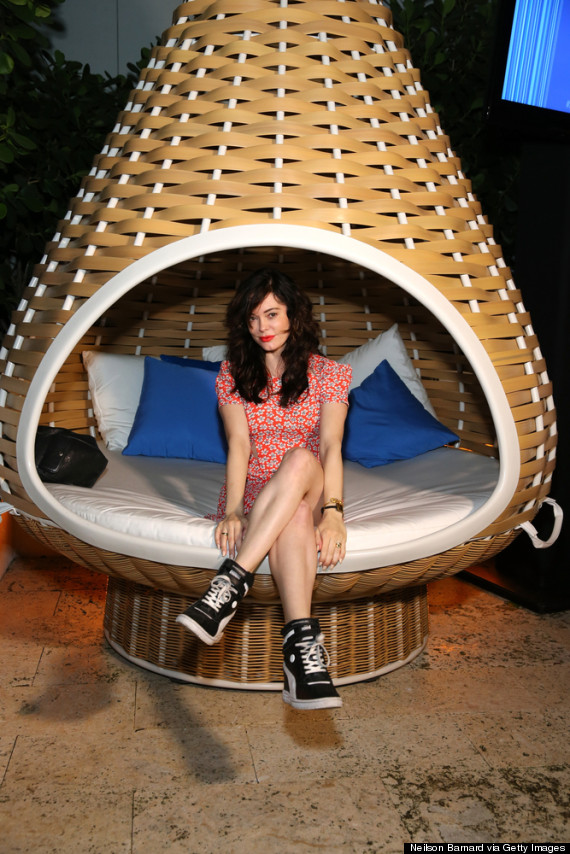 12/07/2013 2:53 PM EST
One more Saturday night event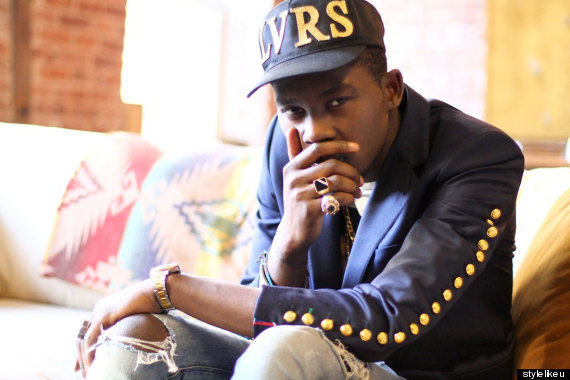 The OddFellows Speakeasy's been open all week, but tonight they really ramp things up with a performance by Theophilus London, who'll not only debut two new songs but stage a live interactive art installation -- because it's Basel, and everyone must.
But thanks to its "no cell phone" policy, this one's different, too. And thanks to Veuve Cliquot, you can anonymously confess your sins into a phone, recordings of which will then be played in waiting areas along with everyone else's.
Head to the Plymouth Hotel at 336 21st Street, to check it out. Doors open at 10 p.m.
12/07/2013 1:59 PM EST
"This is just some social rat f--k"
At the launch party for an artist-designed Champagne bottle, gallerist Larry Gagosian told Women's Wear Daily's Erik Maza that Basel may be teetering on the edge of too much:
"It could be the social scene swallows the art scene," he said. "It could erode the core of what made this and I'm a little concerned that serious collectors, people who I do business with, and a lot of my colleagues might say, 'Well, this is just some social rat f--k,' and I've already started to sense a little bit of that."

Gagosian had more on his mind.

"It becomes a place to attach a product launch and I understand that. Those are legitimate businesses, too. I'm not a snob," he said. "All I'm saying is that for my industry, the tail might wag the dog and that could be a problem. Two years ago, the audience was a little more interesting from the perspective of the galleries that come here."
Read the full story -- including thoughts from China Chow and the Black Keys drummer Patrick Carney -- at WWD.
12/07/2013 1:24 PM EST
Whose team won 'Win Lose or Draw'?
When artist Ryan McGinness hosted a night of "Win Lose or Draw" at The Standard, we knew we had to go -- and we knew we had to win.
Mission accomplished.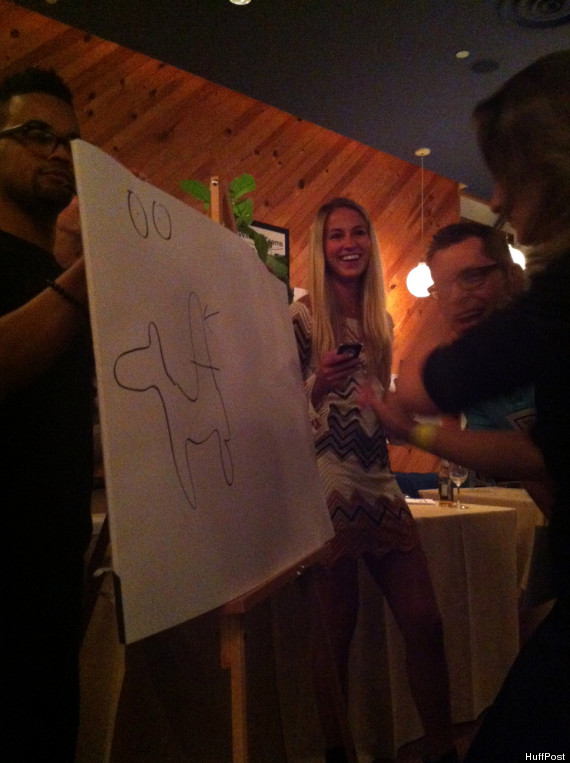 "Hump Day"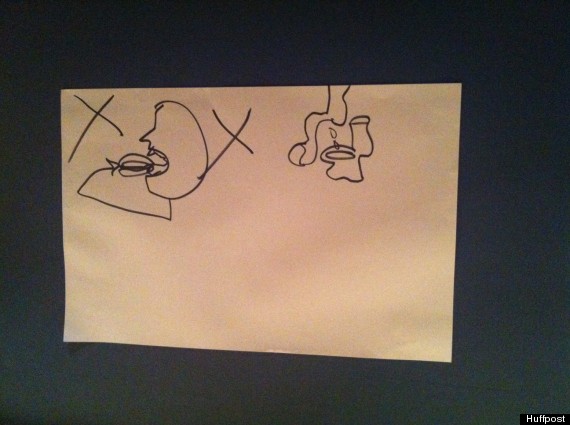 We got stuck with "Don't eat where you shit." Oops.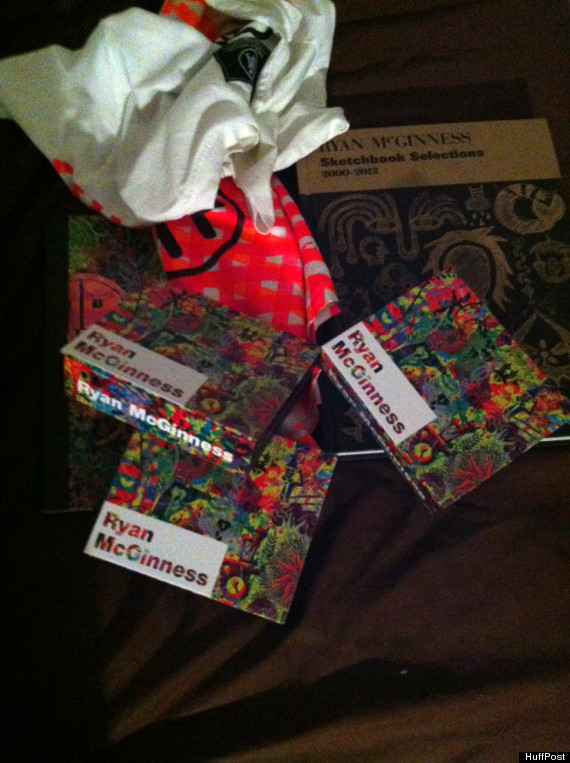 The grand prize: a whole box of McGinness goodies. Hooray! -- JC
12/07/2013 1:19 PM EST
HuffPost blogger Leah Stern's compilation of Basel bon mots is a must:
"I don't get it." (Overheard 30 times.)

"I could do that." (Overheard 30 times.)

"I hate these people." (Overheard 30 times.)

"Notice how the light shimmers off the egg tarts."

"Can we just get through one day without saying Kanye?"

"She's Latin right? What's her name? Martinez? Hernandez? Gonzalez?"

"I don't have an invite, I'm ON the invite."