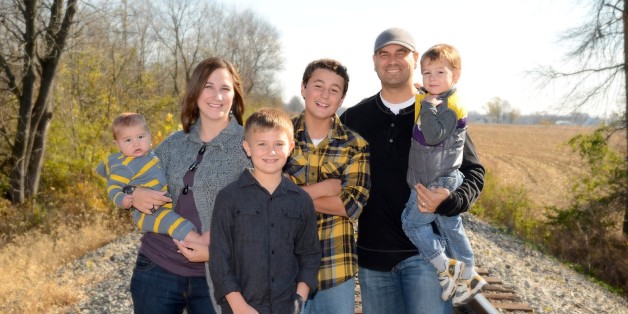 As part of our Blended Family Friday series, each week we're spotlighting a different stepfamily to learn how they successfully blended their two families. Our hope is that by telling their stories, we'll bring you closer to blended family bliss in your own life!
This week we talk to Todd, a dad who said he feels blessed to be a part of his blended family. "It hasn't been easy, but God has blended us together nicely and everyone, including my ex-wife, get along great," he told us.
Below, Todd tells how his ex Susie and his current wife, Carrie, came to be so close and shares his best advice for fostering a sense of peace among co-parents.
Hey Todd. Want to introduce us to your family?
We have six people in total in our family. There's me, my wife Carrie, and our kids: Luke, 16; Evan, 14; Graham, 5; and Hudson, who's 2.
Carrie and I have been married for seven years. The older boys were 8 and 6 when we met in 2005, after being introduced through a pastor at our church. Carrie would hang out with me and the boys before they ever knew we were dating. We never held hands, kissed or anything. After a few months of Carrie and I hanging out, I asked the boys if it would be OK if I asked Carrie out. They said yes -- and then gave me tips on how to ask her out!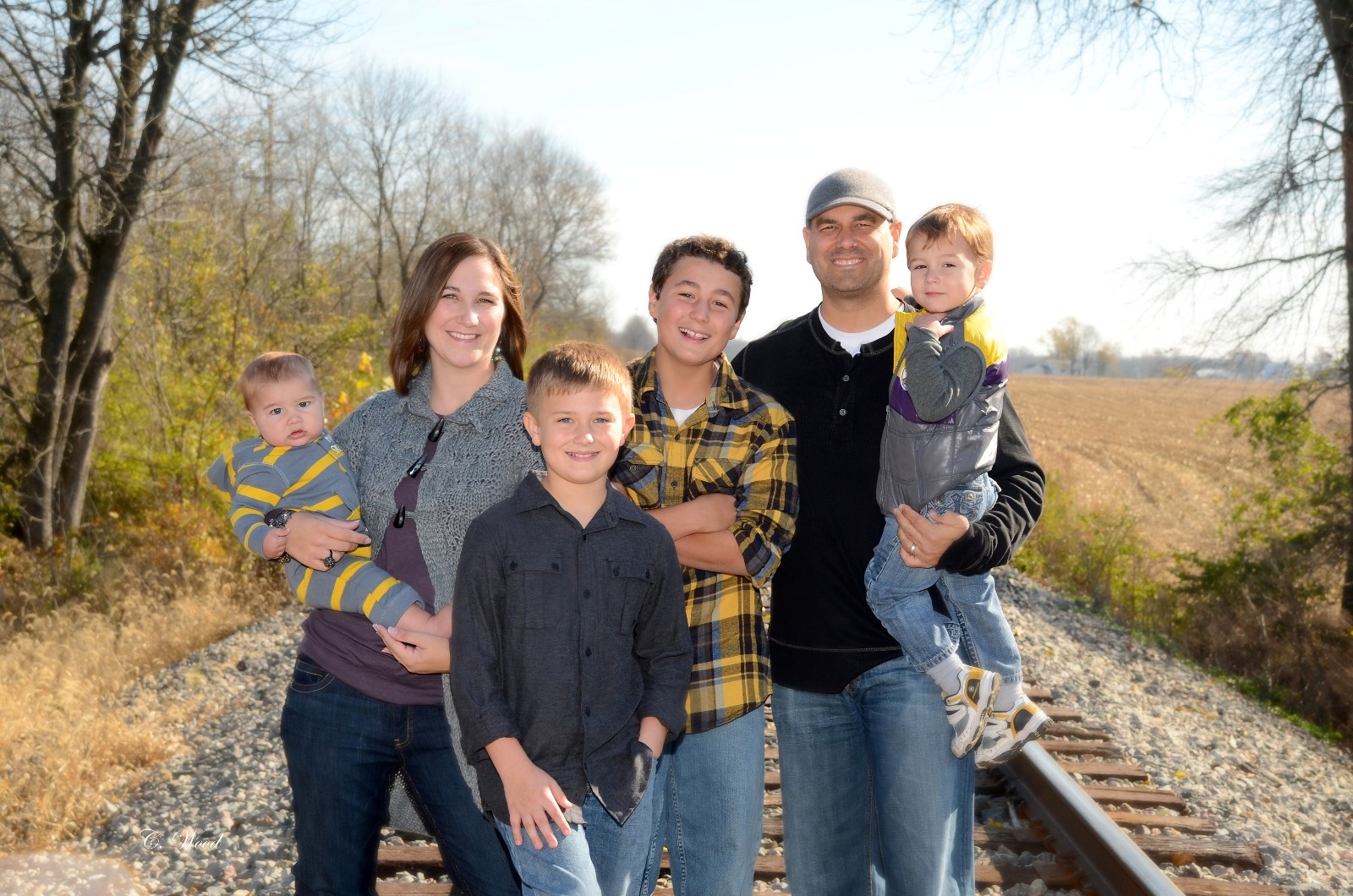 You mentioned that your current wife and ex-wife get along really well. Was it difficult for them to get to that point?
Not particularly. My ex-wife, Susie, had asked early on if they could be friends. Carrie said yes. As Carrie put it, she didn't have anything against Susie so why would she treat her bad? They both decided that the most important part is to keep the boys' best interest in mind rather than self interests. Now they've even traveled together to baseball tournament games in other states.
I remember when Carrie organized a family picture for our family. Out of consideration for Susie, she took the extra step and arranged for Meghan, Susie's step-daughter, to take a picture with my oldest boys as well and printed the copies for her and put them in a frame. That kind act made Susie's day.
We have celebrated holidays together, too. We normally sit together at church or near each other and hang out with each other after the service so that when it's not my week or Susie's week, we still get to see the boys even for a few minutes.
In addition, when we make big decisions about the boys, we make them together at the same house. We sit together at school functions and sometimes we go out to dinner after the school event. And we always make sure we each get a set of school pictures, awards and report cards by making copies of everything.
What are some of the biggest challenges of blended family life?
Flexibility is a big one because it involves people sacrificing their own desires. We've learned that when there's flexibility, it makes life so much easier, but when there are hard and fast rules, it causes rigidity that leads to strife and resentment.
What you decide to call each other is a big issue, too. One of the things that I made sure of is that the boys would call Carrie by something worthy of her. Calling her by her first name was out of the question. I researched other languages to see how mom was spelled and pronounced. I gave the boys and Carrie multiple options. After a few weeks of trying to find one that everyone could live with, my oldest son Luke suggested, "Ma." I was thrilled with that terminology and so was Carrie.
What's the best thing about being part of a blended family?
The best thing is to watch our family grow together spiritually, physically and mentally. I have witnessed God's love, reconciliation and grace through the addition of family members on Carrie's side. It's really cool to see how God weaves his people together to show love.
Carrie's parents have been heavily involved as well. They have welcomed Luke and Evan into their lives like their own grandkids. They buy them gifts for their birthdays and Christmas and treat them with respect and love. The boys and my in-laws often say they love each other. One of the best things about a blended family is gaining an extended family and sharing the love.
What makes you proudest of your family?
The fact that Carrie calls my older boys her own. She always says that she has four boys, not two.
I'm also proud of my co-parenting relationship with Susie. I remember when Luke's second grade teacher had no idea that Susie and I were divorced. She was amazed on how well we got along and could sit in the same teacher conference together without arguing or bringing our past into normal conversations. We have worked so hard to not make a big deal about disputes, put the boys first and to avoid public arguments to make people around us feel uncomfortable. Because of how well we all get along, all four of the boys have genuine joy.
What advice do you have for blended families who may be struggling to keep the peace?
Pray for your ex-spouse. If you pray for your ex-wife or husband, you will be amazed by the way you lose your resentment and anger toward them. The tension will ease and your life will be easier, believe me.
Small changes at home can make a big difference, too. I would make sure that the children have clothes and their personal belongings at both houses. It is important for the children to feel like they are at home at both houses. Avoid packing bags because your house will feel like a hotel and not their home. Another thing I'd recommend is taking a family picture together and hang it up in your house. This will create a visual unity that will help alleviate any separateness that some times children can feel when they have multiple homes.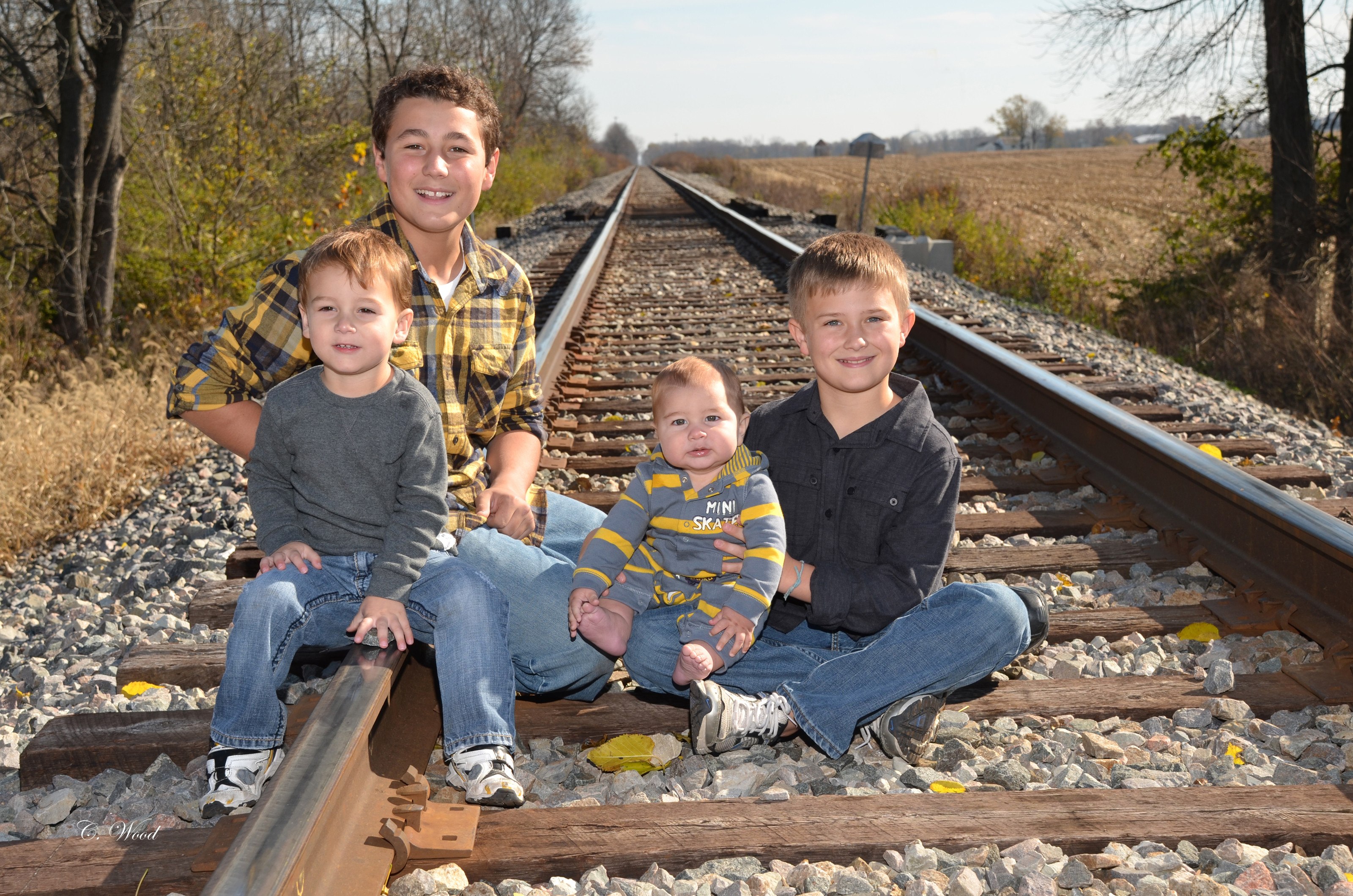 If you'd like your own family to be featured on a Blended Family Friday, please email us at divorce@huffingtonpost.com. We're looking forward to hearing your story!