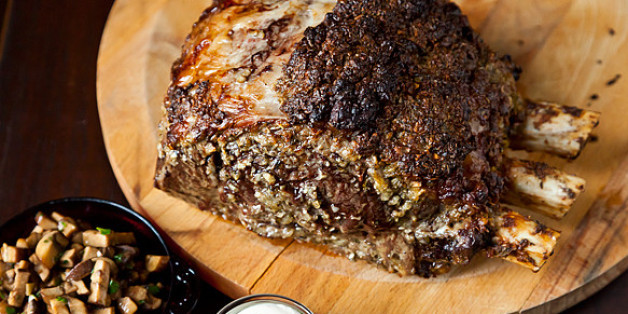 Food52
The holiday season is definitely not a time for subtlety. Any other day of the year, we're happy with a simple dinner of grilled cheese and tomato soup. Or a healthy rice bowl. Or, even just a piece of buttered toast. But during the holidays, we need more. We want our jaws to drop when the main dish arrives at the table. We want bounty.
There really is no simpler way to accomplish that goal than with a huge, over-the-top holiday roast straight out of the oven. While we will always love a classic standing rib roast, that's not the only roast that will impress at a Christmas dinner. You can choose between roast hams, beef tenderloin and even turkey.
Whichever you choose, we can guarantee jaws will drop with these recipes below. Happy holidays!
1

Prime Rib Roast With Miso Jus

Steamy Kitchen

2

Sticky Glazed Asian Ham

Foodie Crush

3

Coffee Rubbed Prime Rib Roast

Half Baked Harvest

4

Juicy Roast Turkey Breast

Foodie Crush

5

Porcini And Rosemary Crusted Beef Tenderloin With Port Wine Sauce

Food52

A Spicy Perspective

7

Bacon Bird With Turkey Neck Gravy

Food52

Simply Recipes

9

Roasted Prime Rib With Horseradish Sauce

Food52

10

Persian Lamb In Pomegranate Quince Sauce

Food52

11

Maple And Hazelnut Encrusted Pork Sirloin Tip Roast

Adventures in Cooking

Simply Recipes

13

New Year's Day Fresh Ham

Food52

Simply Recipes

Simply Recipes

16

Three-Ingredient Prime Rib Roast

Con Poulos/Food & Wine

17

Thomas Keller's Roast Chicken

Simply Recipes

18

Crock-Pot Bacon Wrapped Beef Tenderloin With Balsamic Glaze

A Spicy Perspective
Want to read more from HuffPost Taste? Follow us on Twitter, Facebook, Pinterest and Tumblr.

Related on HuffPost:
Stunning Christmas Desserts
YOU MAY LIKE
CONVERSATIONS
FOLLOW HUFFPOST