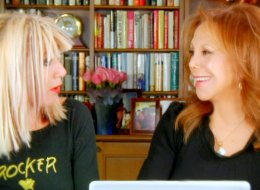 When asked about what lessons she learned from going through the experience of bankruptcy, fashion designer Betsey Johnson had some valuable things to share. Looking back, she said that she realized how unique her niche store truly was, even if it ultimately went bankrupt. She also learned that you should never spend more money than what you bring in; a lesson instilled in her by her parents growing up.

"There's always something good that comes from the bad," said Betsey. "You just have to get through the hard times and then things will change." Betsey feels she has a bigger, better business now and is satisfied as the creative director of her brand.
See 10 of Betsey Johnson's most outrageous fashion moments here:
Betsey Johnson's Most Outrageous Fashion Moments
Since the time Betsey first started designing clothes in the late 1960s, her bright, whimsical and completely feminine pieces have become iconic parts of art and pop culture.

In the 1990s, Betsey's designs gained fame and popularity for her use of unexpected color, bold, mixed prints and a rocker girl aesthetic.

As famous as she is for her original fashion line, Betsey is equally famous for her candid, playful attitude in front of the camera. Here, she strikes a pose—fully clad in leopard—at a press event in 1996.

Throughout her career, Betsey has befriended countless celebs and public figures. Here, she lightens up the mood with Ivana, Ivanka & Donald Trump in 1997.

Another signature of Betsey's personal style are loud statement pieces. Here, she strikes a pose at the premiere of the 'Sex and the City' TV show in 2000.

Here, Betsey celebrates her birthday in true Betsey style in 2010, clad in a pink prom dress, striped leggings and colorful accessories.

Betsey is often seen donning big, colorful hats, scarves and other fun accessories. Here, she channels Marie Antoinette with a bright purple tulle hat and feminine pink bow.

Throughout her illustrious career, Betsey has been inspired by the world of rock and roll. Here, she shows off her darker punk side at a film premiere in 2011.

Feminine meets punk rock, Betsey is the queen of pairing seemingly mismatched pieces into one playful and imaginative look.

For years, Betsey has included a signature cartwheel after each of her fashion shows. At age 73, she still nails it every time! Here, she performs her famous stunt after her spring 2009 collection premiered at New York Fashion Week in 2008.

After her signature cartwheel, Betsey lands in the splitz. Here, she nails a perfect landing after her New York Fashion Week show in 2012. And it's amazing, she can still do it!
Add Marlo On Facebook:
Follow Marlo on Twitter:

Weekly Newsletter

Sign up to receive my email newsletter each week - It will keep you up-to-date on upcoming articles, Mondays with Marlo guests, videos, and more!

Sign up here