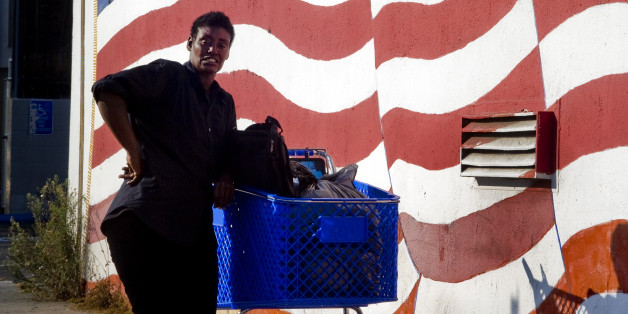 Volunteers will fan out across Los Angeles this weekend to distribute duffel bags chockful of food and other necessities to 2,600 homeless men, women and children in an annual effort to help some of the city's most vulnerable residents.
The Giving Spirit will be coordinating handout of the "survival" packages from the San Fernando Valley to downtown L.A., so those pitching in can make a personal connection with those they meet on the streets, said Tom Bagamane, founder and chairman of the 14-year-old nonprofit. A special effort will be made to reach women and children and those outside of the traditional support network.
"We really try to seek out those on the fringes," Bagamane said. "We also want to give our volunteers time to spend quality time with our clients, to have one-on-one conversations. "The touching of hands or a heart goes just as far as the wonderful things in their kits."
According to the 2013 Annual Homeless Assessment Report to Congress, Los Angeles has one of the nation's largest homeless populations -- nearly 53,800 residents, although most aid organizations say that the number is much higher. From 2012 to 2013, the report said, the city's homeless population increased by 11,445, a jump of 27 percent.
Bagamane said The Giving Spirit has been overwhelmed with volunteers for its winter campaign -- the group also distributed 1,700 survival backpacks last summer -- and now is desperate for cash donations. As of Friday afternoon, the charity was about $65,000 short of its $250,000 goal for the year.
"Our message is that we leave judgment at the door," said Bagamane, who estimated his group has helped 28,000 people since it was created. "We don't care how they got there. These are people who are cold and tired and hungry and desperate. Anything we can do to give them hope is great."
Send checks to The Giving Spirit, 11908 Montana Ave., #205, Los Angeles, 90046, or visit www.thegivingspirit.com. ___
ALSO ON HUFFPOST:
PHOTO GALLERY
BEFORE YOU GO
Celebrities Who Were Homeless
PHOTO GALLERY
Celebrities Who Were Homeless