This happened during the bouquet toss at a wedding recently: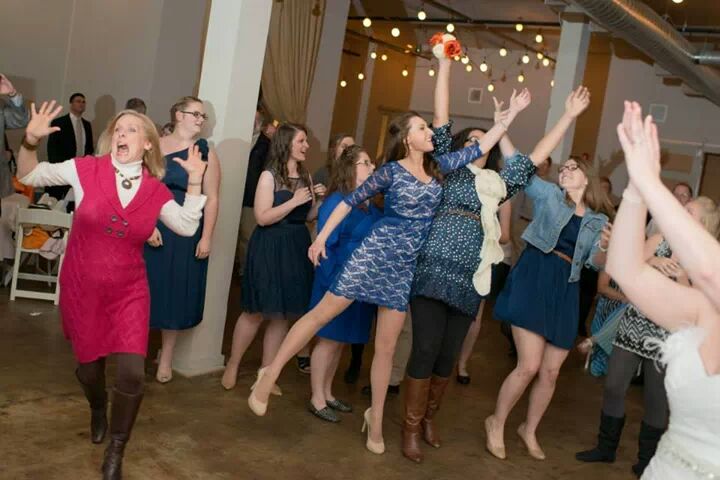 Credit: Appear Photography
While we're not exactly sure why this happened, we do have a couple ideas:
1. This woman is deathly afraid of flying flowers.
2. She thought the guests were doing one of those "Run away from T-Rex" photos.
3. She's allergic to single women in their twenties.
4. She really, really, really, doesn't want to get married.
The photo was posted on Imgur Tuesday by flamingogirl453 with the caption, "What was my favorite picture from my wedding day? Not me and my husband. This."
We can see why.
Check out the slideshow below for more funny wedding photos.
@dvds81: "The eating of the cake."

"This was my groom after a 'few' drinks during our reception." - Amy McDowell

Submitted by Mark and Jennifer Shydler Wiley

"At our destination wedding in Playa del Carmen, Mexico, the groomsmen decided to surprise me with a striptease during the reception. They had me sitting in a chair blindfolded, then the music started playing. Our photographer was able to capture my reaction when I took the blindfold off..." - Dilara Litonjua

"My husband and his groomsmen :)" - Tiffany Barnett Kinsey

"The secret." - Deanna Picardi

@huff_alana: "Every new Huff goes through this ritual."

"One of my favorites from our Big Day." - Corine

"The bride's two sisters were her maids of honor. As they walked up onto the altar, one of them knocked over the lit candles! The minister quickly picked them up and nothing caught fire luckily! The guilty party took a bow and it was just what the wedding party needed -- a good laugh to release the tension!" - Jenny Dobbins

"I guess my husband got hungry and took a bite out of my arm after the first look?" - Urooj Siddiqui

"One of my groomsmen pretending to grab my wife's butt as a joke for the camera man just before walking down the aisle. But her dad just happened to look down and catch him in the act. He did not find this humorous!" - Mark Wiley

@alaskanaomi: "A girl totally stole the bouquet from the hands of a bridesmaid. Priceless!"

@jessidig: "The cake fell down my dress with all our guests watching and my parents in the background!"

"It was hot in June, so our groomsmen decided to drop their pants!" - Hayley & Matt Roberson

@Kimberly_April: "Little ring bearer picking his nose during the ceremony."

"Two of my bridesmaids finding out they couldn't go on the hayride." - Alison Jimenez

@Caseyebruce: "One of my faves. My dad in the kilt stealing the show!"

@ChaoticGood06: "#groomsmenfight"

@NotAHippie_Mtl: "He's pretty darn excited to be marrying me."

Submitted by @Figgy610

Submitted by @herbalrx420

@katiereallydid: "Didn't know the photographer was taking pictures! Was trying to make bride laugh!"

"'Don't you dare smash that cake in my face. If you do, I'm ripping up the marriage license.'...And he did...and we're still married." - Jessie Dixon
Keep in touch! Check out HuffPost Weddings on Facebook, Twitter and Pinterest.