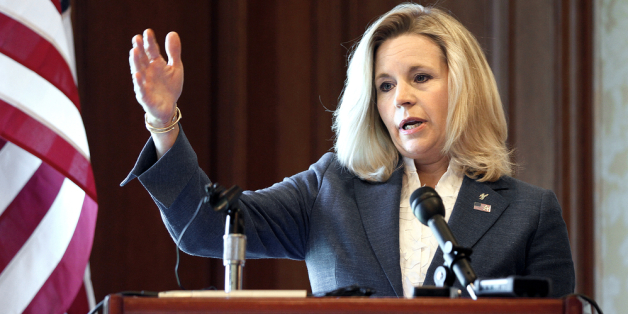 Wyoming Senate candidate Liz Cheney went after the National Republican Senatorial Committee (NRSC) this week, charging that organization was working against her in favor of the "Washington establishment."
In a fundraising email obtained by TPM, Cheney targeted the NRSC as one of her biggest foes, accusing the unit of aiming to "preserve the status quo."
"The Washington Establishment is doing all it can to try to stop us," Cheney said. "Even with the mess in Washington today, the Establishment is fighting hard to protect incumbents. You and I know that protecting incumbents won't protect our freedom."
Nearly four months into Cheney's Senate campaign, a local Wyoming television station asked whether it was fair to classify her as a Tea Party candidate. Cheney would not go so far as a straight yes, but called herself a "supporter" of the movement.
"They've really sent a message that the people we elect need to make sure they remember that they work for the people who sent them to Washington," Cheney said. "And so I think the tea party has done a lot of good for us."
Back in July, an NRSC spokesperson told The Hill that if a primary challenge emerged in the 2014 Wyoming Senate race, the organization would support incumbent Sen. Mike Enzi (R-Wyo.). About a week later, Cheney made that primary challenge official, announcing her plans to run.
"The NRSC's main responsibility is to ensure the reelection of Republican senators on the way to the majority," NRSC Communications Director Brad Dayspring said prior to Cheney's announcement. "We would obviously support Sen. Enzi if a challenge arises."

ALSO ON HUFFPOST:
PHOTO GALLERY
BEFORE YOU GO
Dick & Liz Cheney
PHOTO GALLERY
Dick & Liz Cheney