Some people are effortlessly able to keep their homes organized. The rest of us? We go around pinning "simple" organization hacks and before-and-after closet makeovers, then go home to our chaotic homes/nests, completely unable to contemplate how to undo days (and weeks) of poor decisions. If you live with someone, or hell, even a pet, multiply everything by two. Have kids? You probably haven't seen your the floor in certain rooms for weeks.
The holidays, while stressful, offer the opportunity to actually address these problems. Letting outsiders in for Christmas might be the kick in the pants one needs to tackle the nest that your living room has become. But there just aren't enough hours in the day to FULLY rehabilitate your messy home. You can, however, fake a clean house. It's a temporary bandage, of course, but it'll buy you a little time until after the holidays.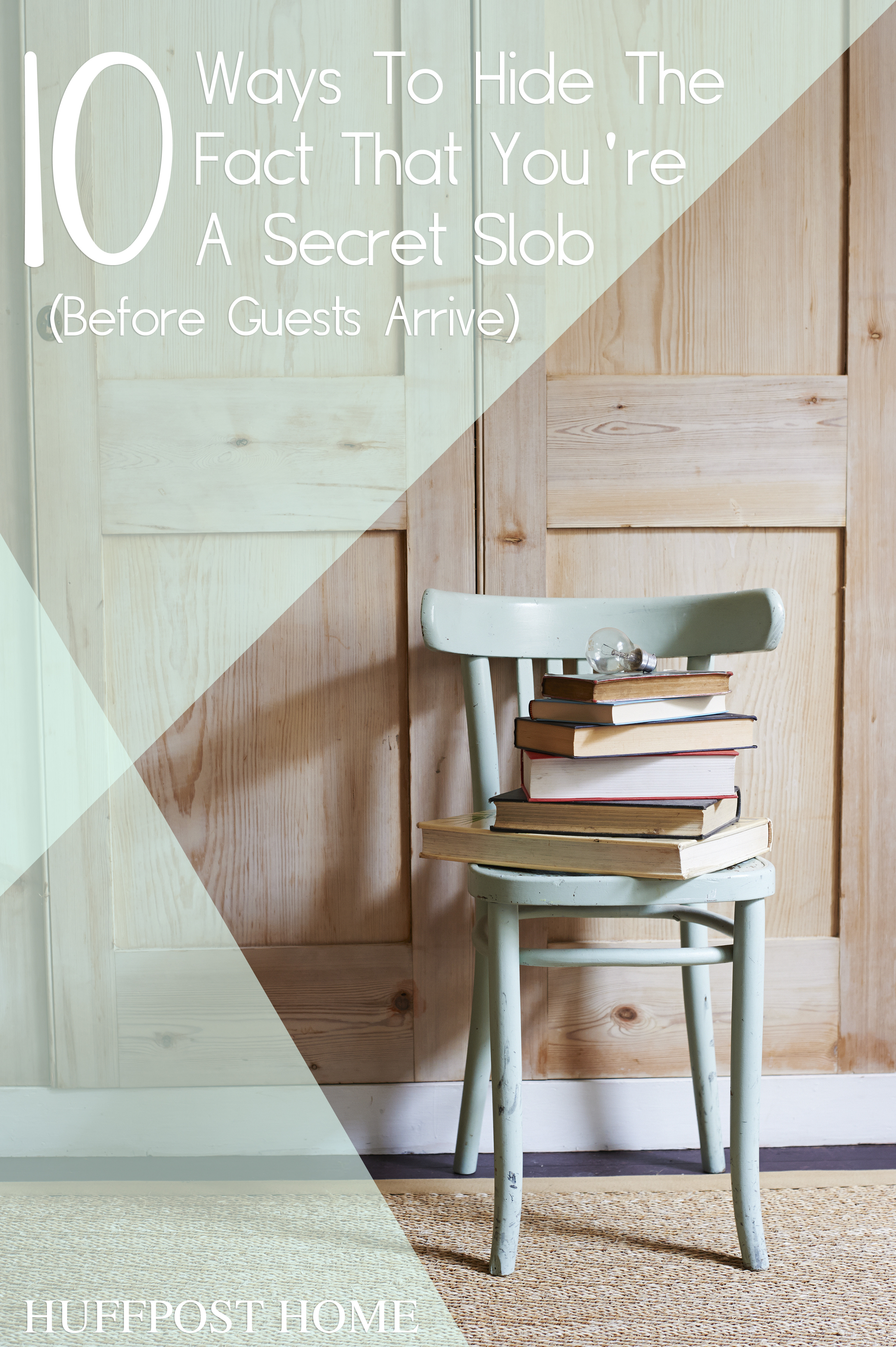 1. Address The Dish Situation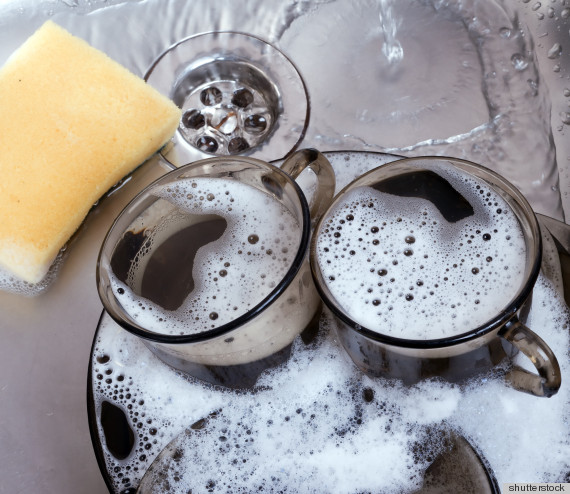 Wash anything you let "soak" in the sink. Once clean, put anything you'll need to access for party prep towards the front of the cabinets. Anything you won't use? Put them on the upper shelves. Try to justify using disposables for food serving, in order to prevent a repeat problem. And if you're really in a bind, leave everything in the dishwasher.
For A Saner Future... Make it a habit to rinse, then pop into the dishwasher. Stop grabbing a new glass every time you're thirsty. And, know that if a dish soaks for more than an hour, it's going to stay in your sink way longer than anyone would like it to.
2. Set A Timer, Grab A Big Bin
Put anything that's supposed to be in the bedroom but isn't, into the bin. Setting a timer helps eliminate any wavering about whether or not something goes into the bedroom. Once the bin is full, put it into the bedroom or bedroom closet, to be dealt with later. Repeat with other rooms and other bins. Allot 15 minutes per room.
For A Saner Future... Keep a storage bin in each room at all times. At the end of each night, take anything that doesn't belong in the room, throw it in the bin and return to its proper location.
3. Bust Out The Trash Bags
If your entire wardrobe is on your bedroom floor, throw the clothes into trash bags. It's a temporary fix. Throw bags into the closet. If someone sees said bags, say that those are "donations" that you're taking to the thrift store tomorrow.
For A Saner Future... Go through each trash bag per day, sorting out clothes to launder and clothes to donate. Honestly, if you have so much that you could wade ankle-deep in clothes and STILL have wardrobe options in your closet or bureau...it's time to do a purge.
4. Stow Shoes
Under the couch seems to be a good place if your closets are now full. If you're lucky enough to have a mudroom, line shoes up along the baseboard.
For A Saner Future... Get one of those over-the-door shoe organizers, or add a few small shelves to the closet.
5. Contain Small Items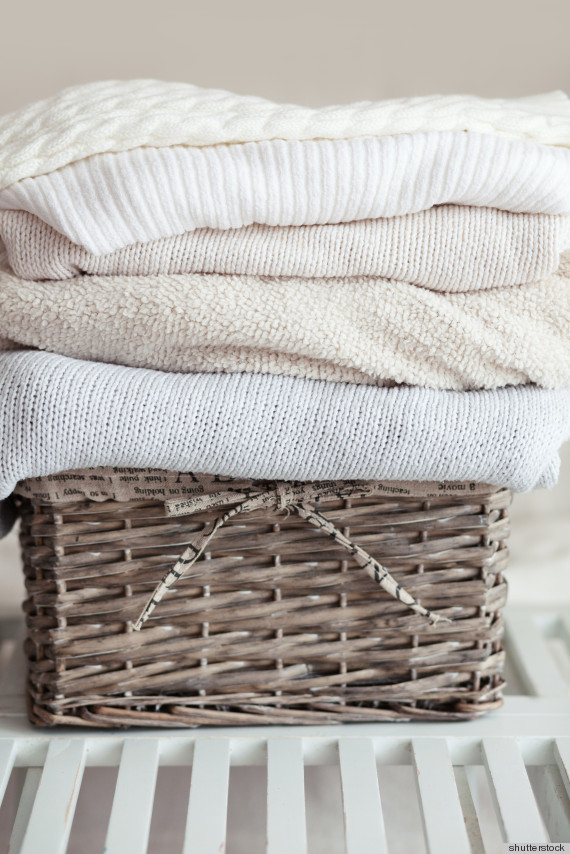 For the random things -- like pet toys and kids' stuff -- use a pretty basket or bin and place on a high shelf. You can also use the bins for stowing towels in the bathroom.
For A Saner Future... Grit your teeth and accept the fact that kids' and pet stuff will always be found where you least want it/expect it. And get more bins.
6. Clear The Coffee Table
This makes a big difference for minimal effort. Either clear the surface entirely, or neatly stack magazines and nice-looking books.
For A Saner Future... Try to make your coffee table the one area in your home that's always neat. It's a small surface, so there's really no excuse.
7. Flip Your Sofa Cushions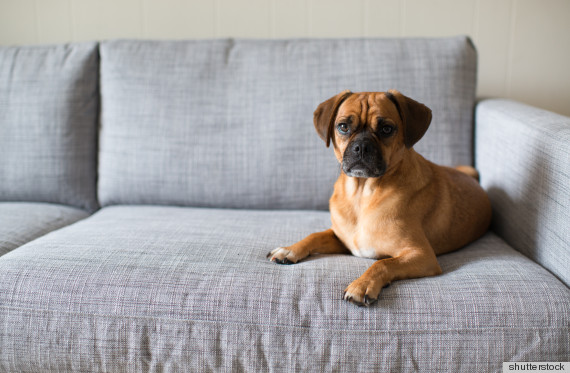 The lesser-used side is cleaner. Is your sofa truly horrendous? Pick up a plain slipcover from Bed, Bath & Beyond. No time for that? Drape a blanket across the back of the sofa.
For A Saner Future... Treat your sofa with a light fabric refresher, then vacuum. Get a nice slipcover. They can really hide a multitude of sins.
8. Wipe Down The Windows, Mirrors and Counters
It doesn't have to be perfect, it just has to be done.
For A Saner Future... Try to make a habit out of cleaning mirrors and windows once a week (or every two weeks), instead of "when I can barely see out of it or into it."
9. Vacuum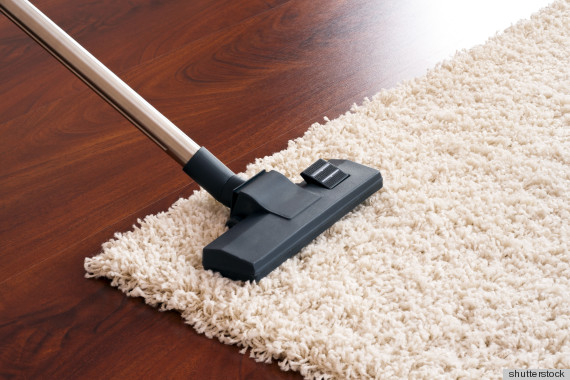 Or Swiffer, if you have wood floors. If you have pets, sprinkle baking soda onto the carpet, let sit for 15 minutes and then vacuum. Any mysterious odors are now gone.
For A Saner Future... Do we have to say it? Make it a habit.
10. Burn Candles
Freshens up the room without a heavy fragrance.
For A Saner Future... Candles are like perfume -- a nice addition, but not something that should replace good habits. Use your vent fans while cooking, let rooms air out, don't let dishes soak too long and never burn popcorn.
Reading this and thinking "How could anyone live like that?" This slideshow is for you:
Overachievers Guide To Cleaning
Maybe it's because we hardly use our irons that we find cleaning them with toothpaste to be a bit, well, silly.

When was the last time you walked into someone's home and said, "My, what dirty baseboards you have! You should run a dryer sheet over them." Probably never.

Here's brand new information: toast makes crumbs. If this impedes your breakfast routine, then by all means de-crumb. Otherwise, let's go back to thinking about better things than toaster debris.

Chances are, if you own one of these, you've just been using a good old feather duster to clean it. And that means you've being doing it wrong. What you really need is a hair dryer -- duh.

Is there anything more annoying than cleaning blinds? Probably, but when you're doing it, there doesn't seem to be.

We weren't lying about this one. Reddit user greatdane4 uploaded this photo of a ribbon being placed over a light bulb, demonstrating how you can easily remove its wrinkles. Because how could you live with yourself if your ribbons are not perfectly straight?

We're lucky if we clean our ovens, let alone detail the cookie sheets after they've been through the dishwasher. But an overachiever would totally take the time (and we mean time), to scrub these.

Why would anyone take the time to dust a light bulb? To make your home 20 percent brighter, of course!

We totally get running a rag over your photo frames, but using a Q-tip to make sure you get in all the nooks and crannies? That's crazy.