 While this year's NBA offseason didn't have the pizazz we can surely expect in 2014 -- with a much anticipated draft class and LeBron James once again entering free agency -- it did produce some key moments. Chris Paul stayed in LA, Dwight Howard became the league's latest star to ride the free agency carousel, and the Brooklyn Nets went $87 million into the luxury tax ... on purpose. With the new year approaching, let's examine the crucial moves from last summer and their impact on the current season.
LA Clippers: Re-signed Chris Paul
Not surprisingly, Paul has starred for the Clips, reaffirming his status as the league's premier point guard. LA's two young bigs, Blake Griffin and DeAndre Jordan, have benefited immensely from Paul's remarkable ability to run the pick-and-roll. Paul ranks first in assists by a wide margin, and his ability to control the tempo and keep the team under control is the reason the Clippers are 21-11 and in prime position to compete for a high seed in the Western Conference.
Houston Rockets: Signed Dwight Howard
The sooner we realize that Howard is never going to be Hakeem Olajuwon, the better. Despite spending more time working out last summer with "Dream" than Eddy Curry did at a Dairy Queen, Howard continues to lack the counter-moves and deft touch necessary to be a dominant low-post scorer. What he is, however, is one of the game's best rim protectors and a great rebounder. Rockets GM Daryl Morey wanted Howard so that James Harden would have an elite big to play the two-man game with. He also wanted to give the team had a defensive centerpiece. Howard, who's averaging 18 points, 13 rebounds and 2 blocks, has been just that.
Detroit Pistons and Milwaukee Bucks: Traded Brandon Knight for Brandon Jennings
The always entertaining Jennings is averaging a career-high 8 assists on a Pistons team that struggles to score. Lack of efficiency, however, continues to prevent him from reaching the upper echelon of point guards; he shoots a woeful 39 percent from the floor, still takes way too many long 2s and is turning the ball over 3 times per game.
As for Knight, the overall quickness and ball-handling responsibilities of the point guard position -- a major issue since day one -- continue to plague him. The 22-year-old has been awful in pick-and-roll as both a scorer and a distributor, and he averages a mere 4 assists per game, despite a high usage percentage. Most alarming is that Knight, who was thought to be a very good shooter coming out of Kentucky, is now shooting 33 percent from 3 and a brutal 38 percent from the floor. But hey, at least he's not being talked about for this anymore!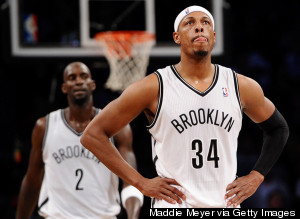 Paul Pierce and Kevin Garnett aren't on track with the Nets. (Getty Images)
Portland Trail Blazers: Traded for Robin Lopez
Lopez's move to Portland didn't draw the same attention as D12's move to Houston, but one could argue it's been just as important. Lopez has played the center spot all year, in turn allowing LaMarcus Aldridge to be a true four-man, where he is most comfortable and dynamic. Lopez's numbers won't jump off the screen, but his role as a strong interior post defender and stellar rebounder (8 per game in 30 minutes) has been vital to the Blazers' success.
Golden State Warriors: Traded for Andre Iguodala
When healthy, Iguodala has been every bit the two-way talent Golden State had hoped. His ball-handling ability and versatility give the Warriors another option at point guard to rest Stephen Curry and allow him to play off the ball. And there are few better perimeter defenders than Iguodala in the game today. When he was out of the lineup nursing an injury, the Warriors had a losing record.
Cleveland Cavaliers: Signed Andrew Bynum
Aside from his own cancerous locker room ways, Bynum has endured another season of injuries, and Cleveland put him on paid leave. When he was on the floor, he was far less active and bouncy than he used to be, and was no longer the feared shot-blocking presence of three years ago. Bynum signed a contract through next season for $24.8 million, but now only $6 million is guaranteed before Jan. 7. The recent news that Cleveland will "part ways" with him is hardly a surprise.
Brooklyn Nets: Traded for Paul Pierce, Kevin Garnett and Jason Terry
It should come as no surprise that Pierce and Garnett have struggled with their new team. While Brooklyn has a talented roster with two surefire Hall-of-Famers, the Nets have been unable to manufacture a lethal offensive attack. Pierce is moving at a glacial pace, Andrei Kirilenko has been hurt all year, and Deron Williams has battled the injury bug and is clearly not the same explosive penetrator he was in his Utah days. Moreover, acquiring Garnett has hardly helped a Nets' defensive unit that ranked 23rd in field goal percentage against last season. Brooklyn now ranks 18th in that category and 22nd in points allowed. Losing center Brook Lopez for the season (his third foot surgery in two-plus years) may just be the nail in the coffin for rookie head coach Jason Kidd.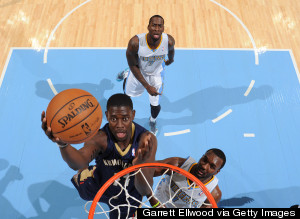 Newly minted Pelicans point guard Jrue Holiday has played a great two-man game with Anthony Davis. (Getty Images)
Phoenix Suns: Traded for Eric Bledsoe
Bledsoe is one of the league's rising stars at point guard. He's a sensational athlete whose rugged style and quickness allow him to excel at both ends of the floor. The Suns remain competitive while in rebuilding mode (they rank fifth in the NBA in offensive efficiency), and what better way to rebuild than around a 24-year-old talent like Bledsoe.
New York Knicks: Traded for Andrea Bargnani
It's not a good sign when you're willing to deal a second-round pick in a loaded 2014 draft for a player nobody else in the league wants. But such is the harsh reality for the Knicks and Bargnani, the former No. 1 pick who flamed out in Toronto and arguably has been worse in his new home in New York. A historically poor rebounder for his size, Bargnani's only value is his ability to spread the floor as a four-man. Yet he's shooting a career-worst 30 percent from 3 this season. The Knicks are an absolute mess, and while Bargnani isn't the only problem, he shouldn't have been on this team in the first place.
New Orleans Pelicans: Traded for Jrue Holiday
The Pellies got their point guard of the future by trading away Nerlens Noel for 23-year-old Holiday. Noel is recovering from knee surgery and will likely miss the entire season, but Holiday has continued his ascent among the NBA's top-flight lead guards. He's a terrific passer (8 assists per game) and a perfect complement to budding superstar Anthony Davis thanks to his approach to the screen-and-roll and his ability to push tempo.
Meanwhile, free-agent pick-up Tyreke Evans -- who caught up with The Huffington Post after he signed -- has proved versatile, but his well-documented shooting struggles have persisted: The 24-year-old is shooting just 41 percent from the floor.
Dallas Mavericks: Signed Monta Ellis and Jose Calderon
After missing the playoffs in 2013 for the first time since the 1999-00 season (the year Mark Cuban bought the team), the Mavs have been a pleasant surprise. While Dirk Nowitzki has assumed his regular form, free-agent acquisitions Ellis and Calderon have stabilized the backcourt with strong play. Ellis (21 points, 6 assists per game), is enjoying a career-year from distance, converting 34 percent. Calderon is a steady point guard who understands his role, and he, too, is shooting very well, making 48 percent from distance -- good enough for second in the league.
Email me at jordan.schultz@huffingtonpost.com or ask me questions about anything sports-related at @Schultz_Report and follow me on Instagram @Schultz_Report. Also, be sure and catch my NBC Sports Radio show, Kup and Schultz, which airs Sunday mornings from 9-12 ET, right here.