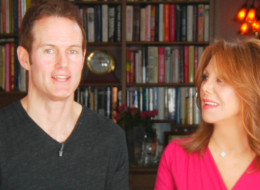 Did you know that certain foods could help burn belly fat? Celebrity fitness trainer Joel Harper had some great suggestions for gut-busting snacks.

First, Joel recommends eating raspberries, as their belly fat-burning abilities have been proven to work. If raspberries are not in season or difficult to find in your neighborhood, Joel suggests taking a raspberry supplement -- called ketones -- instead. "My celebrity client Dr. Oz takes these," Joel told us.
Another belly fat-burning snack is watermelon, since its high water content helps fill you up faster. Who would have known that these tasty fruits could be so helpful to our waistlines?
For more of Joel's tips for a healthier 2014, see the slideshow below:
Tips For A Healthier You In 2014, From Fitness Expert Joel Harper
In order to calculate how much water you should be drinking per day, divide your body weight in half, then make sure you drink that amount of water in ounces every day. Your body is 50-65% water, so it needs water to function efficiently and effectively.

Always eat three hours before going to sleep to allow your body time to fully digest and absorb the nutrients of your meal.

Always eat protein within 30 minutes of working out. Your body needs protein in order to repair and build the muscles that you just worked.

If you catch yourself holding your breath during exercise, count out load. This helps to avoid straining and moving the tension to other parts of your body.

Always eat a healthy balanced breakfast with fiber to boost your metabolism and help you avoid overeating later in the day.

85% of all headaches are caused by dehydration. When the body is dehydrated, your blood volume drops, leading to lower blood and oxygen flow to the brain.

When walking as well as exercising, always look eye level or above. It automatically improves your posture and helps you to avoid rolling your shoulders forward.

When at a buffet, make sure none of your food touches on the plate to avoid piling on too much and overeating.

Soak your raw almonds in water for one hour before eating them. This makes them much easier to digest and helps your body absorbs the enzymes better.

When doing ab work, put your hand on your stomach to make sure you are pulling the muscles down, not pushing them up.

Always count backwards when exercising. It gives you a feeling of accomplishment, plus you'll work out harder from the instant gratification.

Make sure to never go two days in a row without exercising. Consistency is key with any fitness program -- look at it like brushing your teeth! Always try to get in a minimum of 15 minutes a day.

Never exercise with joint or muscle pain. Always fix it first. These types of problems will not work themselves out, and you want to avoid long term damage.
Add Marlo On Facebook:
Follow Marlo on Twitter:

Weekly Newsletter

Sign up to receive my email newsletter each week - It will keep you up-to-date on upcoming articles, Mondays with Marlo guests, videos, and more!

Sign up here