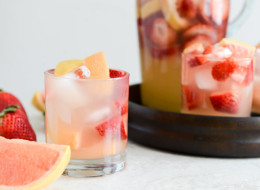 Citrus season is one of the only reasons we're okay with winter. From clementines to Meyer lemons, the plethora of citrus fruit dulls the yearning in our heart for summer berries. And that's especially thanks to the biggest, baddest citrus fruit of all: the grapefruit. Grapefruit can make us feel like we're basking in the sunshine even on the snowiest of days. And we're real grateful for it.
You'll find supermarkets are abounding with boxes of grapefruits. We recommend you stock up. Because grapefruits are not just for breakfast. With their unique combination of sweet and tart flavors, they easily work for sweet to savory dishes to be enjoyed as salads, desserts and drinks.
Salty Chihuahua

EatingWell

Texas Ruby Red Grapefruit Cake With A Hint of Mint

James Ransom/Food52

Scallops With Grapefruit-Onion Salad

Con Poulos/Food & Wine

Pink Grapefruit Yogurt Cake

Two Peas and Their Pod

Spinach Salad With Citrus And Roasted Beets

John Kernick/Food & Wine

Orange And Grapefruit Slices With Coconut

New Media Publishing

Sparkling Grapefruit Sangria

How Sweet It Is

Grapefruit Donuts

A Beautiful Mess

Citrus Salad With Candied Ginger

Dave Lauridsen/Food & Wine

Grapefruit Tarragon Gin And Tonic

James Ransom/Food52

Red Grapefruit, Feta And Mint Salad

Food52

Grapefruit And Brown Sugar Muffins

A Beautiful Mess

Grapefruit Sorbet

How Sweet It Is

Citrus-Poppy Seed Vinaigrette

Kana Okada/Food & Wine

Winter Grapefruit Salad with Citrus-Ginger Vinaigrette

la domestique/Food52

Pink Grapefruit Sandwich Cookies

Brown-Eyed Baker

Grapefruit with Vanilla-Honey and Coconut

fiveandspice/Food52

Savory Grapefruit Sabayon

MelanieEinzig/Food52

Grapefruit & Ginger Tart

Sasha (Global Table Adventure)/Food52

Grapefruit Brulee

EatingWell
Want to read more from HuffPost Taste? Follow us on Twitter, Facebook, Pinterest and Tumblr.
Tired of eating the same ol' citrus? Broaden your horizons with new citrus fruit.
A variety of mandarin orange that was named in 1902. You may also know them as Cuties, which are marketed toward kids and are actually a cross between a clementine and a Murcott mandarin. Also Known As: Seedless tangerine Available: Mid-November through January Appearance: Small, with a deep orange exterior that has a glossy appearance Qualities: Easy to peel and almost always seedless. Clementines are sweet, with less acid than oranges, and are perfect for eating out of hand. Origin: Morocco and Spain Our Tasters' Comments: "Refreshing, sweet and tart." "I like the mellowness." "Surprisingly bland compared to the others -- I thought these would be my favorite." "Very mild flavor with some sweetness." "Lacks juiciness."

Closely related to the mandarin orange, the tangerine has been cultivated for over 3,000 years. Available: October to April Appearance: Smaller than most oranges, slightly soft, pebbly-skinned, and orange in color Qualities: Tangerines are easy to peel and split into segments, but often have seeds (though the number varies from fruit to fruit). They're less tart and sweeter than oranges, and are good for eating out of hand. Origin: China Our Tasters' Comments: "Juicier than the clementine, with a distinctive taste." "Juicy and tart." "Similar to the clementine." "It's got a thicker white membrane than the clementine."

Maybe surprisingly, since our editors weren't familiar with it, the honey tangerine is the most widely grown variety of tangerine. Also Known As: Murcott orange Available: January to April Appearance: The smooth, shiny and speckled skin can be colored either yellow-orange (in warmer winters) or orange-red (in colder winters). Qualities: Honey tangerines have between 12 and 24 seeds on average, a tough skin (making it harder to peel), and a sweet, honey-like taste (hence its name). Because of how sweet they are, honey tangerines are rarely used for vinaigrettes or acidic applications -- they're better for desserts or eating out of hand. Origin: Florida Our Tasters' Comments: "There are some big seeds in here." "It does taste slightly honey-like, but there's a slightly bitter aftertaste." "Subtle honey flavor." "Heavily seeded, but nice flavor." "The seeds are a turnoff."

These juicy oranges were brought to the United States by Japan in the late 19th century. Also Known As: Seedless mandarin Available: Best from October to December Appearance: Smaller than ordinary oranges, Satsumas have thin, leathery skin that is bubbled with oil glands. It should be noted that they're very delicate and easily bruise upon handling. Qualities: Seedless and easy to peel, Satsumas are very sweet (they're known as "honey citrus" in China) with a tender, melt-in-your-mouth texture. They're great for eating out of hand. Origin: Japan Our Tasters' Comments: "Supremely plump and juicy. It's like a little pillow of juice in my mouth." "Complex, unique flavor." "Extremely delicate, juicy and sweet." "So juicy, but it has a strange aftertaste." "Interesting almost-berry flavor."

This orange, a cross between two different types of navels, is one of our editors' favorites. Also Known As: Cara cara navel, red navel orange, pink navel orange Available: Best from October to December Appearance: Medium sized with dark orange-pink skin Qualities: Sweet and low in acid with a complex flavor and notes of berries Origin: Venezuela Our Tasters' Comments: "Beautiful color, great robust orange flavor." "Complex, floral flavor. Like a sweeter grapefruit." "Perfect balance between sweet and tart. A bit more like a grapefruit than an orange." "The tartness tastes a bit like strawberries."

Blood oranges get their color from anthocyanins, pigments that are common in many flowers and fruits (but not often found in citrus fruits). Available: December to March Appearance: Orange exterior that's often stained with blood-red flecks (sometimes staining the entire exterior of the skin) with a deep red flesh. They're often smaller than the average orange. Qualities: Blood oranges have a tough skin that's quite difficult to peel, and their taste is tart-sweet (the tartest of all oranges). Origin: Italy, Spain Our Tasters' Comments: "Sour! But in a delicious way." "Tastes like tart blackberries." "Wonderfully tart, great color." "Sour, juicy and beautiful." "The best! Great flavor and sourness."

The tangelo is a hybrid of a tangerine and either a pomelo or a grapefruit. Also Known As: Minneola, Honeybell Available: December to February Appearance: Approximately the size of a fist, with a distinctive raised knob at one end Qualities: Tangerine-type flavor, and extremely juicy with minimal flesh and loose skin, making it easy to peel. Tangelos have a balanced sweet-tart flavor. Origin: Florida Our Tasters' Comments: "Super juicy, but not as sweet as I'd like." "Almost pear or peach flavored." "Really, really juicy but lacking in flavor."

Navel oranges are characterized by the growth of a second fruit at the apex, which protrudes slightly and resembles a human navel. Available: November to April Appearance: Navels are fist-sized and orange with that distinctive "belly button" at one end. Qualities: The skin is thick and easy to peel, but the flesh is less juicy than other oranges. They're slightly acidic and are good eaten out of hand. Origin: Brazil or Portugal (it's disputed) Our Tasters' Comments: "Solid basic orange flavor." "Neutral flavor, firm texture." "A pretty tasty orange, though a tad on the tart side." "Nicely balanced flavor."

Valencia is the top orange juiced for making orange juice -- but these oranges aren't so enjoyable eaten out of hand. Types: Valencia, Hamlin Available: March to June (late-season) Appearance: Round and pale orange, with that classic orange look Qualities: Sweet and juicy with seeds, but with an undesirable texture for eating out of hand Origin: Valencia hails from California, whereas Hamlin was developed in Florida. Our Tasters' Comments: "Dry and stringy -- that must be the reason these are used for juice." "The flavor is good, but it's too dry." "Strangely dry and juicy at the same time." "Fibrous." "Not good eaten out of hand."