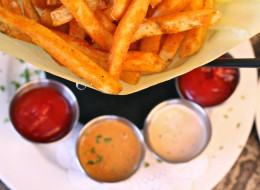 There's no denying the greatness of French fries. These golden sticks of happiness are the reason we order certain dishes at restaurants. (Seriously.) They instantly improve burgers, are 50 percent of the reason we love fish and chips and just make the world a better place all around. Whether curly, seasoned or waffled, we're starting a committee to make sure these spuds are served with every meal. (Who's with us?)
But we're getting off topic here. What we really want to be addressing is not that you should be eating more French fries -- because, duh -- but how you should be eating them. We're willing to bet that most of you out there are eating your fries in the same ol' ketchup you've been dipping in since the day you were born. We have one thing to say about that: BORING. It's time to switch things up, guys. French fries deserve more than that.
We don't have anything against ketchup. We were still dipping our fries in this tomato-based condiment until our Facebook fans let us in on their French fry accompaniment of choice. Their answers made us put down the ketchup and broaden our French-fry horizons.
Check out the 18 things you should be dipping in, that aren't ketchup.
Blue Cheese Dressing

Flickr: Kristen Bonardi Rapp

Brown Gravy

Flickr: stu_spivack

Steak Sauce

Flickr: Smart Alex!

Chocolate Frosty

Flickr: compujeramey

Fry Sauce

Flickr: Victor Solanoy

French's Yellow Mustard

Flickr: burgermac

Malt Vinegar

Flickr: paulshannon

Tartar Sauce

Flickr: Neeta Lind

Aioli

Flickr: qwrrty

Bearnaise

Flickr: trevorhpittman

Buffalo Sauce

Flickr: Bob B. Brown

Sriracha

Flickr: ilovememphis

Banana Sauce

Flickr: Ryan Snyder

Honey Mustard

Flickr: Steve Snodgrass

Ranch

Flickr: Brad.K

BBQ Sauce

Flickr: betsyweber

Jalapeno Cheese

Flickr: alexik

1000 Island Dressing

Kraft
Want to read more from HuffPost Taste? Follow us on Twitter, Facebook, Pinterest and Tumblr.
Now go make some fries.
Get the Beer-Battered Zucchini Fries recipe from Brown Eyed Baker

Get the Baked Chili Cheese Fries with Bacon and Ranch recipe from Baked Bree

Get the Sour Cream and Onion Oven Fries recipe from How Sweet It Is

Get the Pie Fries recipe from Your Homebased Mom

Get the Crunchy Sweet Potato French Toast Fries recipe from Top With Cinnamon

Get the Smoky Chipotle Parmesan French Fries recipe from Cooking on the Weekends

Get the Avocado Fries recipe from BS in the Kitchen

Get the Skinny Texas Cheese Fries recipe from SkinnyTaste

Get the Baked Cajun Fries recipe from Honey, What's Cooking?

Get the Nacho Fries recipe from Edible Perspective

Get the Garlic Truffle Fries recipe from Damn Delicious

Get the Matchstick Fries recipe from The Tart Tart

Get the tofu fries recipe from White On Rice Couple