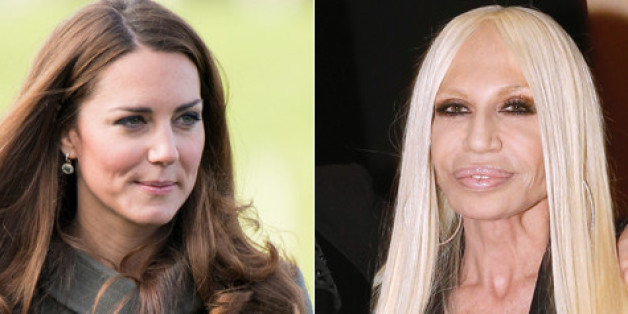 Donatella, stop trying to make the Royal Family in black leather happen. It's not going to happen.
"She is couture," Versace said as she gave The Sunday Times a sneak preview of her summer collection ahead of her show at Paris Couture Week. "I could put her in the colours in this collection, the lilac, pale pinks and purples, but my dream was to put her in black."
But Queen Elizabeth is not the only royal Donatella has taken an interest in. She also has her sights set on a newer member of the family, Kate Middleton.
So what exactly would Versace like to see our favorite duchess dressed in? She would love to put the duchess in one of her draped dresses: "She can wear anything because she has a fantastic body," Donatella told The Sunday Times.
True, Kate does look amazing in pretty much anything she wears. Unfortunately for Donatella, that probably doesn't mean Kate will be ditching her ultra elegant style for the loud, risqué look Versace has become famous for.
We still love you, Donatella:
Donatella Versace's Beauty Evolution
SUBSCRIBE AND FOLLOW
Get top stories and blog posts emailed to me each day. Newsletters may offer personalized content or advertisements.
Learn more