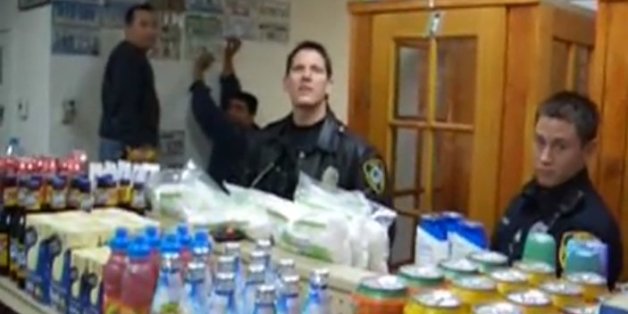 Cari, 36, is one of four East Haven former cops who were arrested by the FBI in 2012 after an investigation by the Justice Department found the town's police department engaged "in a pattern or practice of systematically discriminating against Latinos in violation of the Fourteenth Amendment" and put the department under federal oversight.
The other two former cops -- John Miller and Jason Zullo -- reached an agreement with federal prosecutors in which they pled guilty to crimes unrelated to racial profiling, according to The New Haven Register. Zullo received a jail sentence of two years, while Miller faces sentencing in February.
When Manship appeared and began filming the encounter, Cari arrested him. In an invented report that he changed 27 times, Cari said the priest was holding an "unknown shiny silver object" and refused to give it up after scuffling with the cops.
Manship released the recording of the encounter (see below), undermining the police officers' story.
"He lied, he perjured and it was not a simple mistake," Manship told the court, according to the New Haven Register.
Cari defended himself before receiving the sentence, denying he had targeted Hispanics.
"When I walked into [prison] I was known as that racist cop from East Haven who arrested Latinos, but I want to make clear I am not a racist and have never arrested anyone based on their race," Cari said, according to the Hartford Currant.
East Haven Mayor Joseph Maturo, Jr. released a statement in October saying he hoped the convictions would allow the city to move on.
Also on HuffPost:
Latino Winners And Losers In Congressional Elections
SUBSCRIBE AND FOLLOW
Get top stories and blog posts emailed to me each day. Newsletters may offer personalized content or advertisements.
Learn more