Mike Mack On GMOs: 'There Is Very Little About Farming That's Natural'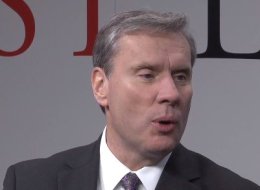 Syngenta CEO Mike Mack joined HuffPost Live at Davos, defending the use of genetically modified organisms, or GMOs, in crop growing.
"There is very little about farming that's natural," Mack said.
"Farming's been around for 10,000 years and a lot of farming has been trying to keep the pests, however you do that, off the farm," Mack continued
"As you get land grown more intensively, pest resistance is going to rise," Mack said. "How can you have a multiplicity of tools... to treat the pests who want to have a go at that crop?"
Mack called GMOs "a tool from the tool box, it is progressive."
See Mack's interview above, and read more from Davos below:
Share +
"We are very fortunate to do what we like to do... so I get a lot of energy out of what I do," Polman said.
"I don't personally believe in work/life balance," Polman said, adding that he hopes to have a happy life balance that includes his work.
"We have to watch what we do, I like to run so I do that every day, and increasingly watch what you eat and maintain your health a little bit," Polman said.