One look at Linda Rodin, and it's easy to see why Mary-Kate and Ashley Olsen cast her as a model in their recent ad campaign for The Row. The 65-year-old skincare guru is wearing her signature bright pink lipstick and oversized eyeglasses. Her white hair is tied into a simple low ponytail. She radiates "chic" in an all-black ensemble, but nothing about her reads overly classic or stuffy -- she's undeniably contemporary.
As she should be. Rodin started her eponymous skincare line in 2008 after a long career in the fashion industry, enjoying a brief stint as a model in the '60s and a successful tenure as a stylist for the likes of Harper's Bazaar, Gisele Bundchen and Madonna. "It's funny to think that people want to take my photograph -- why didn't they want to take it when I had no wrinkles?" she joked when we met in New York recently.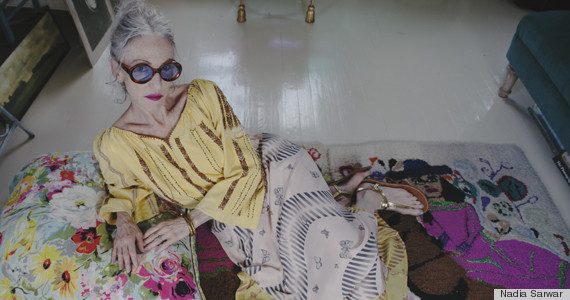 But Rodin's certainly grateful for the opportunity to model, especially when it involves working with the Olsens. "I knew they respected me and they knew I wasn't going to show up… young," she said. Response to the campaign has been overwhelmingly positive, indicating that perhaps the industry is ready to accept images of models above the age of 20... at least if the Olsens say so. Rodin explained: "I think that was what was so interesting: If those two girls find this amazing, when they're on the cutting edge of everything, there must be something to it."
It would appear there is. More and more magazines and brands, like Marks & Spencer and TK Maxx in the UK, are enlisting mature women to star in photoshoots. Some models, like Sarah Wiley, are even scouted after they turn 50. There is a "whole gang of us roaming around," Wiley, 66, told Stella Magazine last month. That "gang" includes 85-year-old Daphne Selfe, 81-year-old Jenni Rhodes and 82-year-old Carmen Dell'Orefice, who's been working steadily as a model since the age of 15.
As for Rodin, she had a full-page feature in American Vogue in August 2011, and she also posed for upcoming issues of Dutch magazine Rikka and Canadian magazine Fashion. But the last time she had seriously modeled was in the late '60s while living in Italy to study Italian. It was only in 2012, when J.Crew asked Rodin to model in its fall catalogue, that she came back in front of the camera. "I always feel like they're using me as not just a model, but someone with something going on," she said. "I'm not just an old lady who they think looks cute in clothes."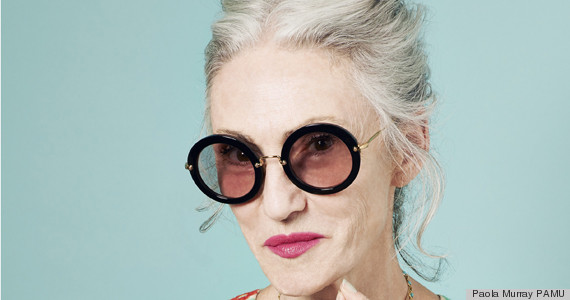 It's easy to make the argument that a brand's choice to cast an older model is shtick, especially when many models are actually under the legal drinking age (and those who aren't are altered to look that way via Photoshop). "I think the whole culture's screwed up," Rodin said, noting the irony. "They retouch 20-year-olds. I work with them, and I see the pictures, and I know that they've retouched this and that and that and this. I just go, 'She doesn't even have any wrinkles!'"
Fortunately, Rodin hasn't succumbed to the pressure to look younger unnaturally (though she experimented with fillers and Botox briefly). She's never dyed her hair, which went gray in her mid-30s, and she has never even considered getting a facelift. ("Aren't we curious to see how we'd grow up?") Instead, she's established a simple beauty regimen using only her own products ("I've got my own little universe"), and she claims she owes her glowing complexion to her namesake brand's enormously popular face oil, Olio Lusso.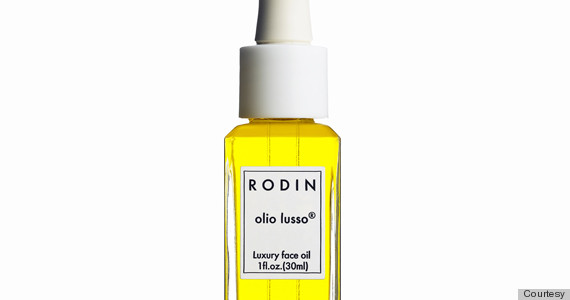 "I first made it in my bathroom," she says, by simply mixing essential oils purchased at a health food store together in a teacup until she created the perfect concoction for her skin. Rodin began handing out small vials of the oil to models, photographers and celebrities on the photo shoots she styled. Before she knew it, Gwyneth Paltrow and Liv Tyler were vocal fans, and a cult following ensued.
"It makes your skin radiate naturally," she said. "It's not going to take away wrinkles. There's no miracle cream -- if there was, we'd all have it."
So rather than harp on the fine lines and freckles that come with aging naturally, Rodin's chosen to focus on looking the best she can while being healthy. "I'm never going to look younger; it's a folly," she said. "At the end of the day, I'm not going to fix anything, so I might as well embrace it."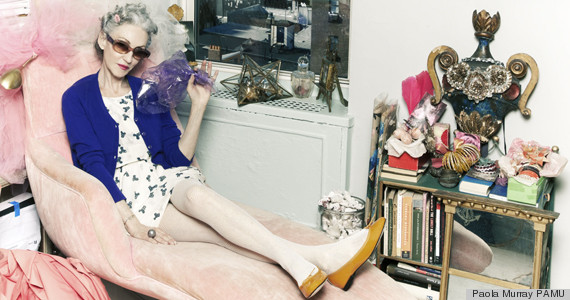 Considering all of the top-tier modeling gigs she's booking, that strategy seems to be working well for Rodin. As of now, she's having fun modeling and focusing on the product launches set for her brand this year, which include a powder face wash and a fragrance inspired by her mother. With this level of energy, it's no wonder the woman is helping to set the bar for longevity in the fashion, beauty and modeling worlds. But the wisdom and perspective she's gained have only come with age.
"I remember when I was 24 saying to somebody, 'You know, I'm really getting up there -- I'm 24!' I was embarrassed by how old I was. Can you believe that? 24 and you're making excuses? What was I thinking?" she said. " And now, I want to be 90. I want to be old and healthy."
More ways to go natural:
5 Anti-Aging Secrets From Around The World
Many teas are high in anti-aging antioxidants. White tea and green tea are rich in an antioxidant known as EGCG, which helps battle wrinkles and helps increase cell turnover. The Chinese mix green tea powder into brewed white tea to create a face mask. Apply this to your face to help fight wrinkles and load your skin with plumping antioxidants.

Start the day off like women in India, with a warm cup of ginger tea. Mix some shredded ginger and honey into some hot water. A cup of this tea is loaded with anti-aging benefits. Honey has natural anti-bacterial properties and helps reduce inflammation. Ginger is rich in an antioxidant called gingerol, which helps protect against collagen breakdown.

It's well known that our hands are one of the first things that give away our age. The skin on our hands loses its elasticity and fullness. In Mexico, women mix together sugar and lemon juice to create a scrub for the hands. The sugar crystals act as an exfoliant to helping slough away dull dead skin. Lemon juice contains alpha hydroxy acid, found in many anti-aging treatments, which also helps peel away the layer of dead skin cells. "When you exfoliate, your moisturizers penetrate better. In the more mature population, we don't shed our skin as effectively and so exfoliating can be helpful," dermatologist Susan Weinkle told The Huffington Post.

You may have heard of noni juice as a hot, new beauty product that models are raving about. But it's actually been around for thousands of years, being indigenous to the southeastern part of the globe. Polynesians use the fruit for its moisturizing, anti-aging properties. Studies have shown that it's effective in softening the appearance of crow's feet, fine lines, and wrinkles.

Studies have shown grape seed extract supplements can actually boost the levels of antioxidants in your blood. It has also been known to protect the collagen and elastin in your skin-- the proteins that give your skin elasticity and firmness. Grape seed extract supplements are popular in France. You'd have to eat over a pound of grapes to get the same benefit as you do from 50 mg of the supplement!
Want more? Be sure to check out HuffPost Style on Twitter, Facebook, Tumblr, Pinterest and Instagram at @HuffPostStyle.
This story appears in Issue 87 of our weekly iPad magazine, Huffington, available Friday, Feb. 7 in the iTunes App store.