22 Cilantro Recipes For The Herb's Biggest Fans (PHOTOS)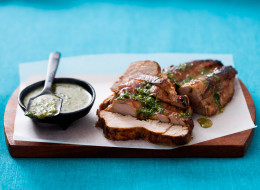 A little bit of fresh herbs can go a long way in a recipe. They pack a ton of flavor, and cilantro is no exception. Its bright and refreshing taste has the ability to liven up a dish with just a sprinkle on top. But this herb can do so much more than garnish dishes. Cilantro is the main ingredient in many sauces served atop grilled meats, it stars in fragrant Thai dishes, and some would argue that it's essential for a good guacamole. Click through the slideshow below for cilantro recipes that showcase its great flavor.
Want to read more from HuffPost Taste? Follow us on Twitter, Facebook, Pinterest and Tumblr.
Seared Sea Scallops with Cilantro Gremolata

James Random/Food52

Cold Marinated Sirloin Noodle Bowl

Macheesmo

Savory Lime Corn Cakes with Avocado Cream

A Spicy Perspective

Szechuan Lambypops with Cilantro Chimichurri

James Ransom/Food52

Nacho Hot Dogs

A Spicy Perspective

Cilantro Lime Shrimp

Simply Recipes

Vegetarian Rice Congee

Macheesmo

Creamy Chicken Enchiladas with Salsa Verde

A Spicy Perspective

Grilled Corn with Lime Cilantro Wasabi Butter

Steamy Kitchen

Cilantro & Ginger Hummus

A Beautiful Mess

Cilantro Pesto

kmartinelli/Food52

Southwestern Spiced Sweet Potato Fries with Chili-Cilantro Sour Cream

James Random/Food52

Coriander Chicken Cutlets With Cilantro Lemon Sauce

New Media Publishing

Skirt Steak With Orange Cilantro Salsa

Georgia Glynn Smith

Steamed Wild Striped Bass With Ginger And Scallions

John Kernick/Food&Wine

Ginger Beef Salad

Yunhee Kim

Soba Noodles With Grilled Shrimp And Cilantro

Stephanie Foley

Warm Flank Steak Salad With Mint And Cilantro

Cederic Angeles/Food&Wine

Roasted Red Pepper Soup with Corn and Cilantro

Food52

Grilled Acorn Squash With Cilantro Mojo

New Media Publishing

Spicy Pea Fritters With Cilantro And Potato Raita

Georgia Glynn Smith

Cilantro Spice Yogurt Dip With Pita Strips And Vegetables

New Media Publishing