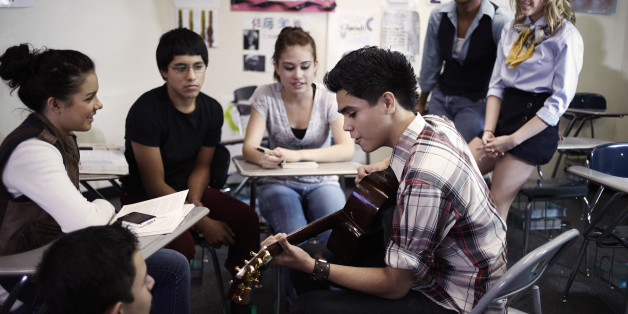 Hispanic teens who learn the English language well enough to engage in friendships with English-speaking non-Hispanics, have improved psychological health compared to others, indicates a study from the National Communcation Association. The findings were secondary to language results that showed the more involved Hispanic youth were with English-language peers and activities, the more they were able to gain access to information, resources and social support critical for their upward social and economic mobility.
This increased access to information and social movement ultimately led to a healthier outlook on the future for Hispanic teens.
"We also found that Hispanic youth feel less alienated and more satisfied living in the U.S. as their English competence and connection with non-Hispanics grow," said lead author Kelly McKay-Semmler, Ph.D., assistant professor of communication studies at the University of South Dakota, in a press release. "This was true whether the Hispanic students represented a small or large portion of the population of their school."
For the research, experts evaluated Hispanics of both Mexican and Central American descent, with the majority being second-generation immigrants. Approximately 23 percent were foreign-born, and 9 percent were third-generation U.S. residents.
Using seven different hypotheses concerning the causative links among language competency, communication with non-Hispanics, psychological health and academic performance, researchers found that high ratings in a category corresponded with high ratings in all the others.
"The study offered practical insights by highlighting the critical role that schools play in facilitating the successful integration of Hispanic youth," McKay-Semmler said. "By encouraging multiethnic interaction on group projects and extracurricular activities, schools can give Hispanic and other ethnic minority children important opportunities to enter the cultural mainstream. Study participants who had more contact and friendships with non-Hispanic Americans developed better English skills and felt more comfortable in the mainstream culture."
The results, according the study authors, suggest it is important for Hispanics–and other minorities–to immerse themselves in the culture of the country in which they live, and linking Hispanic students with non-Hispanic, English-speaking peers could ultimately be the missing link to improving the education and psychological outcomes for this ethnic group.
"These kids are crossing cultures every day," said McKay-Semmler. "Situated at the intersection of cultural diversity and the cultural mainstream, U.S. schools are uniquely able to provide children from multiple and varied backgrounds the communication opportunities and cross-cultural learning experiences that assist all youth in becoming successful members of the larger society. Schools provide the essential communicative contexts through which adaptation occurs."
This article originally appeared on VOXXI under the title "Connecting with non-Latinos helps Hispanic teens' psychological health."
AIDS Among Latinos In The U.S.
SUBSCRIBE TO & FOLLOW LATINO VOICES