This list was assembled with data provided by Rank & Style.
We all have those days where we look at our faces extremely close in the mirror, and we see what we were dreading: pores. Although we can't get rid of them completely, there's always some new product or weird DIY face mask that seems to "really work."
After trying a bunch of foundations, creams and ice-cold treatments, all we really want is one product that will target our pore problems. Well, we can finally call off the search. Thanks to our friends at Rank & Style, we now have a data-backed list that gives us the top 10 pore minimizers. Based on editors' picks and reviews from stores, magazines and blogs, see which products are worth the hype and price.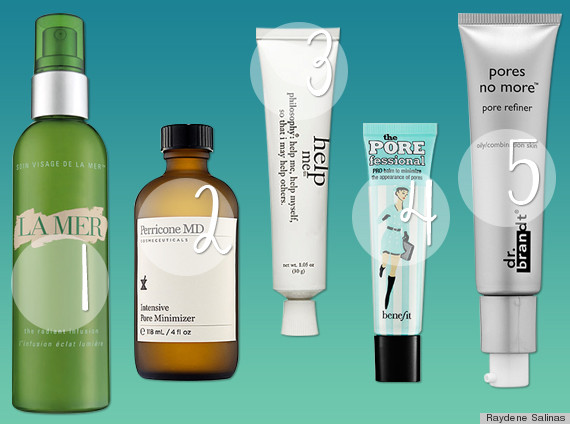 1. La Mer 'The Radiant Infusion,' $115: Everyone wants a piece of La Mer, especially with this gel formula that uses sea salts to wake up your skin and reduce the appearance of pores.
2. Perricone MD Intensive Pore Minimizer, $55: Exfoliation and cleansing come in one package with this pore minimizer, so consider your skincare routine done.
3. Philosophy Help Me Cream, $47.50: Although everything about this Philosophy gem is great, the best thing is the time-release technology that will keep working on your face all day long.
4. Benefit The POREfessional, $30: The POREfessional doesn't mess around, and it works as a face primer, too!
5. Dr. Brandt Pores No More Pore Refiner, $45: Dr. Brandt always has top notch products with some cool factors -- like this pore refiner that has a matte finish. So say goodbye to shine!
Head over to Rank & Style to see the complete list of top pore minimizers. Plus check out the best padded underwire bras, moisturizing lipsticks and printed sweaters.
See which skincare products celebs love:
10 Outrageous Celebrity Beauty Splurges
Rihanna is almost never seen sporting the same hairstyle twice. From mohawks to flowing locks, RiRi's love of variety means she spends over $23,000 a week on a personal hair stylist -- that's more than a million dollars a year!

Even seemingly down-to-earth starlets love to indulge. Mila Kunis reportedly likes to keep her skin looking fresh with a HD Diamond and Ruby Peel -- a facial that uses precious stones to buff away skin impurities and costs $7,000 a pop.

J.Lo's famous glow costs her $1,000 a week in human placenta facials. It may seem kind of gross, but proponents swear that the vitamin and protein-rich smearing placenta encourages skin regeneration, making your face baby-smooth!

It's no secret that The Material Girl lives lavishly, especially when it comes to her rigorous beauty regime. Madge reportedly purchased an at-home anti-cellulite machine for $78,000 that uses acoustic wave therapy to eliminate unsightly skin dimples.

Serena Williams revealed just how serious she was about soaking when she christened the world's most expensive bath at the Hotel Victor in Miami Beach. The exclusive 'Evian Experience' comes filled with spa treatments and 1,000 litres of natural Evian spring water -- as well as a $5,000 price tag.

When Celine Dion demanded a humidifier for her Las Vegas hotel room, no regular humidifer would do -- the Canadian singer requested a $2 million machine to keep her vocal chords warm and to prevent the Vegas climate from drying out her skin.

It's not just the ladies who shell out for their looks -- Owen Wilson stays California-bronzed all year 'round by tanning three times a week, spending around $1,200 per session.

To keep her skin royally radiant, Kate Middleton reportedly indulges in bee venom facials, which (you guessed it) use bee venom to keep skin supple and youthful. One ounce of venom costs approximately $55,200 to extract; Victoria Beckham and Gywenth Paltrow also swear by this odd beauty treatment.

Demi's ever-youthful appearance didn't come cheap -- she's rumoured to have spent over $400,000 in plastic surgery! -- but it seems the 41-year-old actress will go to any extremes for beauty, including having blood-sucking leeches 'detoxify' her blood. Riiight.

Kelly's 2012 Emmys look achieved Internet fame after she posted an Instagram photo with the caption, "About to get a $250k manicure..." Kelly received a ton of backlash for the ridiculously extravagant manicure, but the reality star was ultimately unrepentant, Tweeting, "...please forgive me for not regretting it. It made me feel like a queen!"

Need a day to relax? Some time to unwind? We have to top five splurges that will make you feel like new at the spa.
Want more? Be sure to check out HuffPost Style on Twitter, Facebook, Tumblr, Pinterest and Instagram at @HuffPostStyle.