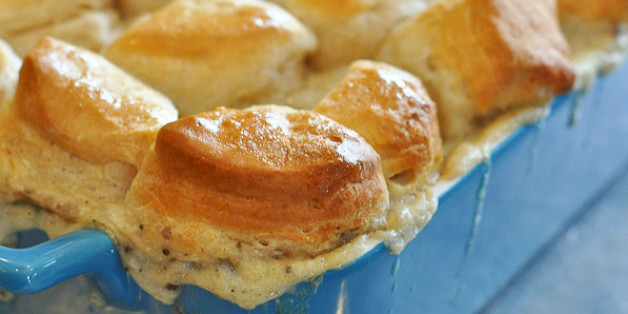 We're all for breakfast casseroles. They're quick and easy and usually keep us happy until lunch. But they're never really anything to get excited about. Breakfast casserole doesn't rate next to a freshly made breakfast sandwich, or better yet, two fried eggs with bacon and toast.
Or so we thought.
Then we came across the biscuits and gravy breakfast casserole and we had to seriously re-evaluate our stance on this morning dish. Biscuits and gravy casserole is a breakfast game changer. Not only is it an easy way to feed a lot of people, but it's biscuits and gravy. And a lot of it.
There are numerous great things happening in this recipe, aside from all the biscuits and gravy. For one, it only calls for four ingredients -- we appreciate the simplicity. Two, it takes no more than 15 minutes to prep -- an important quality in a breakfast recipe. And three, the result is a dish of golden, flaky biscuits resting on top of dumpling-like biscuits settled in a breakfast-sausage gravy -- it's nothing short of amazing.
This recipe has not only forever altered the way we think about all casseroles, but it has made us excited about breakfast again. Get the biscuits and gravy casserole recipe by food blogger Lemon Sugar. It'll be the best thing you do all month.
Want to read more from HuffPost Taste? Follow us on Twitter, Facebook, Pinterest and Tumblr.
RELATED ON HUFFPOST:
PHOTO GALLERY
BEFORE YOU GO
Biscuit Recipes
PHOTO GALLERY
Biscuit Recipes