Cadaver Selfie: Alabama High School Student Posts Photo With Dead Body To Instagram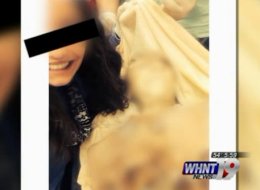 Remember funeral selfies? Well this is worse.
A senior at Clements High School in Limestone County, Ala., faces disciplinary measures after she snapped a selfie with a dead body and posted it to Instagram.
The female student, whose name has been withheld, took a picture of herself smiling next to a cadaver intended for medical use during a senior anatomy class field trip to the University of Alabama at Birmingham's biology department.
The student removed the photo from her Instagram feed, but a classmate took a screen shot of it and showed her sister, who contacted the school, according to WHNT.
The UAB biology department told the station that "sheets were not supposed to be removed from donated bodies and that under no circumstance were students or any other visitors supposed to have cell phones or recording devices on hand during the tour."
"[The university is] understandably upset with this incident and we want to preserve our relationship," Karen Tucker, Limestone County School Board Director of Public Relations and Technology, said, according to UPI. "We are in the process of deciding on the discipline that will occur."
WAFF obtained a statement from the university:
"Tours of our facilities to introduce students -- primarily high school seniors -- to the teaching and research we do, play an important role in educating future scientists and doctors. Our policies require discretion and respect in our human anatomy facilities. No phones are allowed, no photos are to be taken, and faces of cadavers are covered. A student was made explicitly aware of these policies and breached them. This kind of disrespect is unacceptable and very disappointing. We will review our processes to ensure this does not happen again."
And now for an example of what Instagram should be used for:
Don't I look sophisticated? Yes, I do. Source: sophietowne

Don't mess with my throne. Source: sijoyce

And my #RollsRoyce is parked out front, next to the fountain. Source: mrsjennyryan

"Anything is possible!" Source: emilylouise_b

Louis Vuitton... need I say more? Source: mandy_deanne

This is only "casual attire." Source: icelandicody

Nope, you can't drive it. #SorryImNotSorry Source: stevemoretto

Why yes, in fact, I do bathe in money. Source: loaam

I only accept gifts that come in this packaging. Source: baddy_kriss

This color is all the rage. Source: ashley_maine

New decree: Tuna all day, everyday. Source: niinii_q80

Are you blinded by my bling? Source: etch_

Dancing pic after six glasses of Dom. #YOLO Source: earlybirdcat

Please don't disturb. Source: lauraleeeee

Time for you to realize my watch cost more than your rent. Source: mitchellcio

Any picture with Ray Bans makes you automatically awesome. #Hipster #DontEvenTry Source: edenwestbrook

It's my world -- you're just living in it. Source: riorio629

Touch me and I'll claw your eyes out. Source: demet

This food is organic, expensive and all for me. Source: missmonvitoo

"What's a weekend?" Source: isteez

I don't actually eat it -- I just like knowing it's there. Source: mandykamps

This lollipop is laced with gold. Source: victormariano

No, this tie isn't ironic. And neither are my Polo pants with little lobsters on them. Source: itsdanilove53

Happily in the 1 percent. Source: yusemi1

vivavivvi:"Paint me like one of your French girls, Jack!"

2tailbuddies:This is Mino, he is so posh.

2tailbuddies:Mino, has his own iPad to appreciate his pic on IG

Alexis Siler MacMillan:I only lounge on mink #RCOI

vivavivvi:My, what a big roll you have!

moivelous:It's important to accessorize.

GinaLou24-7:lounging about in my pearls.

Brittney Reyes:Diamonds are a girls best friend

Linda Pricci:At the end of a long day of napping, Luna likes to curl up on this bear skin rug she acquired while on safari.

Moncitou:I will pose, but just this once!

Marcia Siebers:

hambrock7:What? Me! birdwatching?! Don't be rediculous!