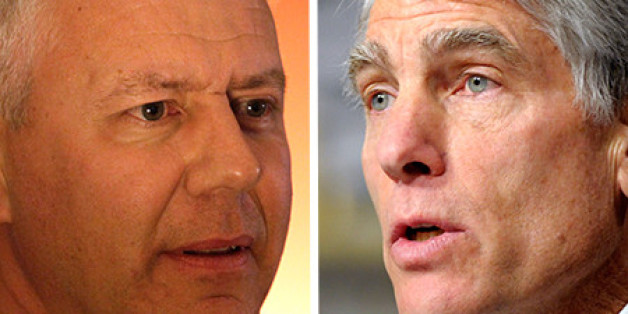 Incumbent Sen. Mark Udall (D) leads, but narrowly, over Republican Ken Buck in a race for one of Colorado's U.S. Senate seats, according to a new survey from Quinnipiac.
Both of the state's Senate seats are currently held by Democrats. But with just under a year to go before midterm elections, the Quinnipiac poll found that Buck trails by a slim margin, just 45 to 42 percent.
Buck, a Tea Party favorite and the district attorney for Weld County, Colo., was the Republican party's 2010 nominee but lost that year to the state's current junior senator, Michael Bennet (D). He is now the front-runner in his party's June primary to face off against Udall in November.
Results show Colorado voters generally approve of Udall's job performance, 45 to 41 percent, but are split evently 42-42 percent on if the senator should be reelected this year.
Early last year, Buck announced that he was receiving treatment for lymphoma, a type of blood cancer. In May, he announced on his official Facebook page that his cancer had gone into remission.
The tea partier has made headlines in the past for some of his more outrageous statements. In 2010, Buck said people should vote for him because he doesn't "wear high heels."
"I have cowboy boots on. They've got real bulls**t on them," Buck said. "That's Weld County bulls**t, not Washington D.C. bulls**t."
Buck also made headlines when he called out tea partiers who question President Barack Obama's citizenship "dumbasses."
Buck, although trailing behind Udall, appears to be the strongest amongst the GOP field also seeking the Republican nomination. In other hypothetical match-ups in the Quinnipiac poll, Udall is favored 43 to 41 percent over State Sen. Randy Baumgardner (R); 44 to 39 percent over state Sen. Owen Hill (R); 43 to 41 percent over state Rep. Amy Stephens (R); and 45 to 38 percent over businessman Jaime McMillan (R).
"Democratic incumbent U.S. Sen. Mark Udall may be the front-runner, but he can hear the footsteps of three challengers, all within a few percentage points of him," said Quinnipiac's director, Tim Malloy.
The Quinnipiac poll surveyed about 1,100 registered Colorado voters.
RELATED ON HUFFPOST:
PHOTO GALLERIES
Senate Seats Up For Grabs In 2014