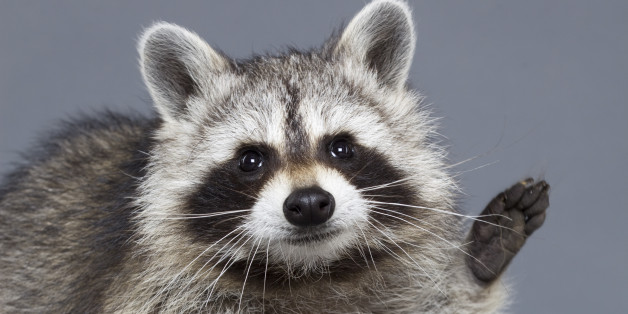 When Virginia Ballou's cat jumped on her bed yesterday morning, she reached out to pet it like always.
There was just one problem: It wasn't her cat. It was a raccoon -- a raccoon who didn't want to be cuddled.
As a result, the 73-year-old resident of Hingham, Mass., was bitten and scratched on her face and hands. Her unwanted guest apparently came into the house through a small cat door, Boston.com reports.
Ballou managed to chase the raccoon out of the bedroom, shut the door and called police.
An Environmental Police officer killed the raccoon and had it tested for rabies, RawStory.com reports.
The officer, whose name is -- get this! -- Leslie Badger, said that raccoon encounters are common in Hingham. It's very rare, however, for creatures to get inside a home.
She said the raccoon who attacked Ballou probably had rabies or was taken in by someone who fed it and then set it free when it got too big.
"People need to understand that you can't feed these animals," Badger told the Patriot-Ledger. "It turns into a situation for someone else that has no idea."
Ballou's cat, the creature she intended to pet, was found unharmed.
This isn't the first time a raccoon has been mistake for a cat.
In June, 1997, a 4-year-old girl in Kinnelon, N.J., was at a birthday party at Lake Reality, and ran into a raccoon in a public bathroom. She thought it was a cat and tried to pet it. That's when it bit her finger, NorthJersey.com reported.
CORRECTION: An earlier version of this story incorrectly mentioned a raccoon attack in Kimmelon, N.J.
ALSO ON HUFFPOST:
PHOTO GALLERIES
Animals In The News