"History in the making" -- that's how Al Jazeera correspondent Marko Pavlovic described today's protests in Bosnia to HuffPostLive.
Thousands of Bosnians took their discontent over unemployment and government corruption to the streets for a third day on Friday, with protest marches rocking at least three cities. The Associated Press reports that groups of furious demonstrators clashed with police and attacked local government buildings. Nearly 200 people were injured in the clashes.
Just take a look at the photos below for a glimpse into the fury of the demonstrators.
And can we blame them? Bosnia's middle class is decimated, many in the working class are living in poverty, while tycoons are flourishing. Bosnian police clash with protesters in the Bosnian capital of Sarajevo, Friday, Feb. 7, 2014. (AP Photo/Sulejman Omerbasic) Bosnian protesters approach a local government building during a protest in the Bosnian town of Tuzla, Friday, Feb. 7, 2014. (AP Photo/Amel Emric) A Bosnian protester is seen in the town of Tuzla, on Friday, Feb. 7, 2014. (AP Photo/Amel Emric)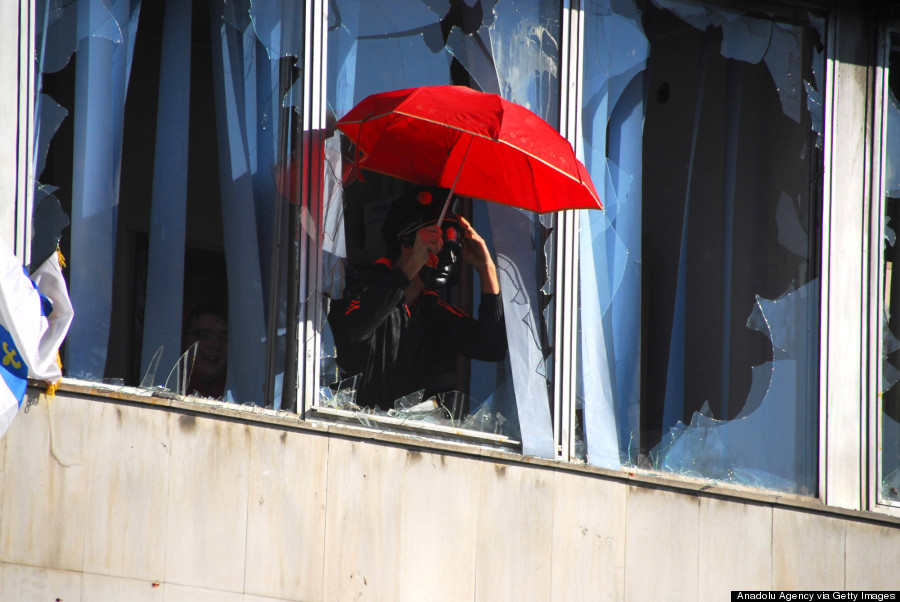 Protesters set fire the Tuzla canton government building during public officers' demonstration in the Bosnian town of Tuzla, 140 kms north of Sarajevo on February 7, 2014. (Photo by Mersiha Besic/Anadolu Agency/Getty Images)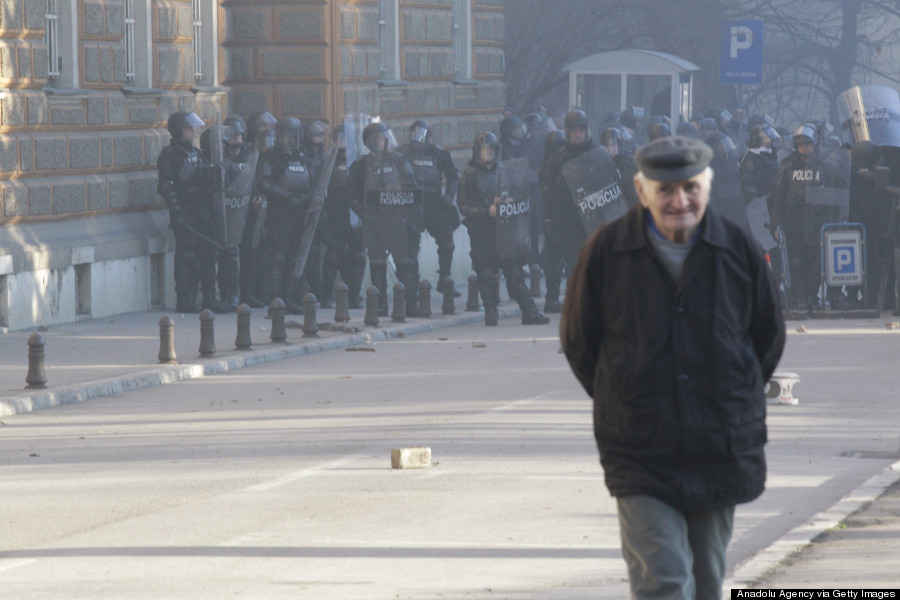 A man walks during clashes between demonstrators and police in the capital Sarajevo, Bosnia and Herzegovina, on February 7, 2014. (Photo by Samir Yordamovic/Anadolu Agency/Getty Images) A protester gestures toward the police cordon in front of the local government buildings in the Bosnian capital of Sarajevo, Friday, Feb. 7, 2014. (AP Photo/Sulejman Omerbasic) Bosnian police officers secure the area in front of a local government building in the Bosnian town of Tuzla, 140 kms north of Sarajevo, on Thursday, Feb. 6. 2014. (AP Photo/Amel Emric) A Bosnian protester stands next to a road blockade during a protest in the Bosnian town of Tuzla, 140 kms north of Sarajevo, on Thursday, Feb. 6, 2014. (AP Photo/Amel Emric)