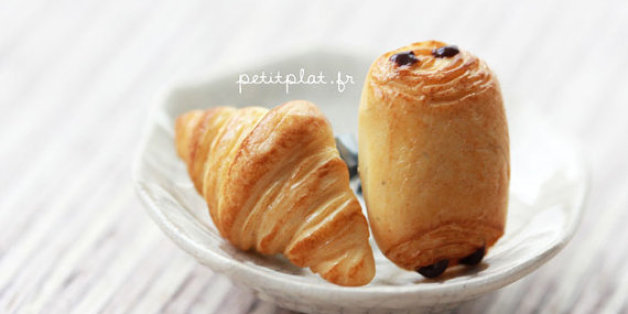 There are a lot of food reasons to love France -- 31 of them to be exact -- but we're mostly enamored with this culinary culture because of their croissants. Buttery, flakey, pillowy, and sometimes filled with chocolate, these perfect examples of pastry are what every other food aspires to be. Even when they're bad, they're good. But when croissants are good -- like the ones from Tartine Bakery -- they're earth-shatteringly, could-die-right-now-happy good. So good, you want the world to know just how much you love them.
And now, you can. The darling (and realistic) croissant and pain au chocolate post earrings by Etsy store Petit Plat are the clearest expression of our pastry love. These miniature renditions of our favorite pastry are masterfully crafted and downright adorable. Each pair comes with one croissant and one pain au chocolate, for those of us who can't choose which one we like best, and it'll cost you $22.22.
Want to read more from HuffPost Taste? Follow us on Twitter, Facebook, Pinterest and Tumblr.
RELATED ON HUFFPOST:
PHOTO GALLERY
BEFORE YOU GO
Real Fruit Jewelry On Etsy
PHOTO GALLERY
Real Fruit Jewelry On Etsy