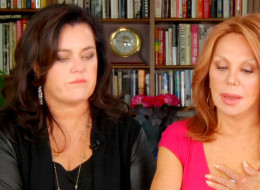 Actress and comedian Rosie O'Donnell gave us some incredibly helpful information—including an original song!—about the signs of a heart attack for females.

Rosie told us that when women are experiencing a heart attack, they could feel pain in the jaw, shoulders, neck, arms or chest. "I only had pain in my biceps, and it did not radiate. Mine felt like a bear had attacked my arm," she said.
Rosie even created a song to list the symptoms of a heart attack for women, sung to the tune of the classic "Raindrops on Roses" ditty from "The Sound of Music":
"Chest pain or neck pain, your jaw or your shoulders
If you have pain in either one of your boulders,
If you are tired like never before,
Call 9-1-1, get your ass out the door!"
Earlier the same day before she felt this pain, Rosie told us that she had helped a large woman out of her car, so at first she chalked up in the pain in her arms to that incident. However, after hours of excruciating pain in both biceps, her wife Michelle searched her symptoms on Google, and she thought something else might be happening.
"Women's signs are very different than men's," Rosie told us. "It was so painful, I was so hot, exhausted and pale. I even puked," she said.
Watch Rosie O'Donnell on the ABC Family original series, The Fosters.
For more of Rosie's life and career, see the slideshow below.
Life And Career Of Rosie O'Donnell
Rosie O'Donnell was first discovered while performing stand-up comedy on the talent show "Star Search." Here she poses for a portrait -- a lovely Irish lass -- shortly after she was discovered in 1984.

Rosie got her first big break acting in the 1980s sitcom, "Gimme a Break." She co-starred with brothers Matthew and Joey Lawrence (front), Nell Carter (back left), Paul Sand and Telma Hopkins (back right).

Although Rosie had begun exploring the world of stand-up comedy in high school, she got her first big break after appearing on the talent show "Star Search" at age 22.

Rosie starred in the 1992 hit movie, "A League of Their Own," which told the story of a women's professional baseball team during World War II. Tom Hanks, Geena Davis and Madonna (below right, when she had dark hair) also had starring roles.

Another big hit for Rosie was the film adaptation of the classic cartoon, "The Flinstones." She played Betty Rubble in the 1994 hit.

Rosie hosted and produced her own television talk show, "The Rosie O'Donnell Show," for six successful seasons from 1996 to 2002. Here, guest Madonna teaches Rosie a few moves during a 1998 episode.

From 1997 to 2001, Rosie won six Emmys for her work hosting "The Rosie O'Donnell Show."

Rosie is an avid fan of the arts, especially when it comes to supporting Broadway shows. She stepped into the role of the Cat in the Hat in the musical "Seussical" in 2001.

After same sex marriage was legalized, Rosie married her longtime partner Kelli Carpenter in 2004. Though the couple later split in 2007, their marriage was inspiring to the LGBTQ community.

Rosie co-hosted the talk show "The View" in 2006, and burned up the airwaves with her outspoken views and beliefs.

Rosie is as devoted a mom as she is an entertainer. Here she is with her great looking kids -- Blake, Parker, Vivi and Chelsea -- along with her ex-wife Kelli in New York in 2010.

Rosie has been a life-long supporter of helping children in need, especially when it comes to the arts. In April 2003, she co-founded Rosie's Theater Kids, which introduces children to the New York theatre scene through trips to Broadway and off-Broadway productions and classes in dance and music. Today, RTK serves more than 5000 kids at 22 schools in Harlem, Brooklyn, Chinatown and many other New York City neighborhoods.

Rosie is now happily married to Michelle Round. The couple has overcome various illnesses and health problems, and has brought a new baby into the family.
Add Marlo On Facebook:
Follow Marlo on Twitter:

Weekly Newsletter

Sign up to receive my email newsletter each week - It will keep you up-to-date on upcoming articles, Mondays with Marlo guests, videos, and more!

Sign up here