A few of us made resolutions this year to finally get our homes nicely organized so we can finally have people over without being ashamed. Like every other resolution, this one was doomed from the start. If you're an adorably disorganized type, it can be very difficult to change one's habits...especially if you don't know where to start.
Consider this your guide to starting. Here are 37 things that you probably have in your home that you can easily get rid of (recycle, trash, donate, whatever works) without a second thought.
The near-empty ice cream carton in the freezer
The extra packet of buttons that came with a cardigan that you've since donated
Stained t-shirts you've had since college
The ratty towel you've been using in lieu of a bath mat
Holiday cards
The treasure trove of plastic grocery bags under your sink
Unidentified foil-wrapped things in your fridge or freezer
2013's calendar
Promotional mugs or glasses that came free with a meal
Piles of ticket stubs, old transit passes, etc., to concerts, movies and places you don't really remember going to in the first place
Any receipts that have accumulated in your pockets or purse (unless it's something you'll need come tax time)
All the stacks of magazines you haven't touched in months
Expired coupons/savings passes
Any envelope that you've kept only because you needed to remember the address (just add it to your phone/contacts list)
All the half-scrawled lists, notes and post-its reminding you of things you have no idea about
Old invitations for things not involving treasured family members or friends
Anything you've agreed to take from your parents' house solely out of guilt
Hobby supplies for hobbies you've given up on (donate it)
Journals, notebooks and other writing pads you've used maybe twice and then given up on
Old textbooks
Paperback novels that didn't change your life
VHS tapes, cassettes and DVDs that did not change your life/entertain you
Printed recipes you tried, didn't like and saved anyway
Expired medicines
Office supplies you never use, such as pens that no longer work
Cheap accessories which have since become a tangled mess of tackiness
Any plastic storage container that doesn't have a lid
Empty coffee canisters
Old batteries
Instruction manuals for appliances you know how to use
Near-empty booze bottles containing one pathetic shot
Tea that's more than a few months' old -- you don't need to drink steeped dust
Party favors from weddings (people really should stop with those)
Miscellaneous cables, cords and wires (just make an attempt to match them first)
Discount/shopper loyalty cards to places you don't even shop at anymore
The weird secret stash of chopsticks acquired from all those times the sushi place thought you were ordering for 4 people, not 1
The stash of duck sauce, ketchup, hot mustard and soy sauce packets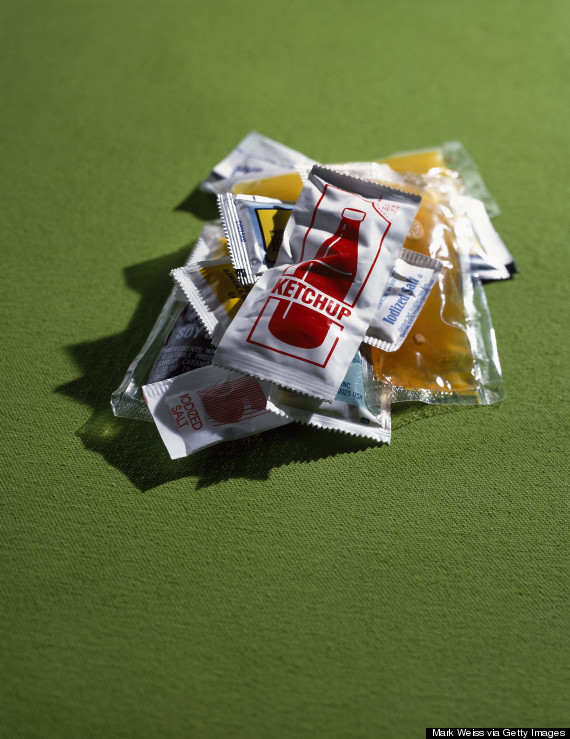 After you trash, donate or give away...maybe try really cleaning.
The Best Cleaning & Organizing Tips
remove stick price tags.

using a baking soda and water cleaning solution.

to reuse their glass holders.

using crumpled aluminum foil.

using a coffee filter.

using a colander.

to clean your outdoor grill.

catch the debris when using a drill.

remove coffee and tea stains on your cups.

by wiping your space down with vinegar.

unclog your drains.

by using rubber bands to keep them in place.

by using binder clips to keep them in place.

fix stubborn carpet dents.

save time and money when ironing clothes.

clean those hard-to-reach places in vases.

make your own broom.

and six other home tasks you've probably been neglecting.

they're a huge germ hot spot.

using baking soda.

help from your hair dryer.

by placing your items on cutting boards.

by using a clothing hanger.

by rubbing it down with flat beer.

with a rub of toothpaste.

with these easy laundry tips.

clean small spaces in your home.

that are dirtier than your toilet.

by dusting your lightbulbs.

to organize your hair ties.

by standing it upright with a binder clip.

to organize your bathroom.

using shower curtain hooks.

with these mail organizing tips.

to mark your keys and prevent losing track of them.

by lining the bottom of your trashcan with newspaper.

with these stress-free organizing tips by 'A Bowl Full Of Lemons' blogger.

clean out bottles with persistent odors.

water your plants.

a bar of soap.

make nifty magazine storage.

make your pillows fluffy again.

clean stainless steel appliances.

help you dust a ceiling fan.

remove rust stains from your toilet.

make your home smell like cookies all day.

as air purifiers at home.

to deodorize your home.

How often should you wash scarves, gloves and hats?

eliminate litter box odors.

keep dust baseboards clean.

eliminate litter box odors.

They're kind of gross.

protect floors from scratches when moving furniture.

polish forks between the tines.

using a hanging shoeholder.

remove paint stains on the floor.

Browse through these surprising bathroom items that have expiration dates.

clean your toilet bowls.

to clean your cheese grater.

It's one dirty little thing.

to remove sticky price tags.

as a garbage bin.

Check and clean your vacuum without making a mess.

clean your coffee grinder.

Don't let it ruin your New Year's Eve!

remove oil stains on cement.

remove ink stains from fabric.

make your fire smell even better this winter.

Make sure you aren't exposing your best friend to any harmful chemicals.

remove water marks from wood surfaces.

a Post-It note?

remove scuff marks from vinyl flooring.

It's the dirtiest part in your home, so make sure you're cleaning it thoroughly!

with plastic bags filled with ice

reduce static cling on your clothes.

with this beauty salon product.

fix scratches on CDs.

clean a dirty wall.

attach pairs of socks so you'll never have a mismatched pair again!

remove staples.

filling them with baking soda and putting them in the fridge.

with foam rubber, which can be found on dry-cleaning hangers.

increase suction of a toilet plunger and keep it in good shape.

help remove wine stains from your tablecloth.

place a teabag in water in the microwave.

clean food particles out of your can opener.

stop a shower curtain from sticking.

safely store candles.

create a yummy (and all-natural!) home fragrance.

help clean the keys and buttons on your cell phone, laptop and remote control.

remove grease stains from clothing.

remove paint odor from any room.

naturally polish silver.

silence squeaky door hinges.

protecting doorknobs and other hardware while painting.

help you clean soap scum from your shower.

fix a shrunken shirt.

help dry your delicate sweaters.

clean your bathtub.

remove mineral stains from glasses.

freshen a linen closet.

collect particles from your broom.

turn discolored socks white again.

clean laminate floors.

dust Venetian blinds.

clean the dust off your houseplants.

clean burnt food out of your oven.

get rid of spiderwebs in your home.

remove gum from the soles of your shoes.

clean up an egg spill.