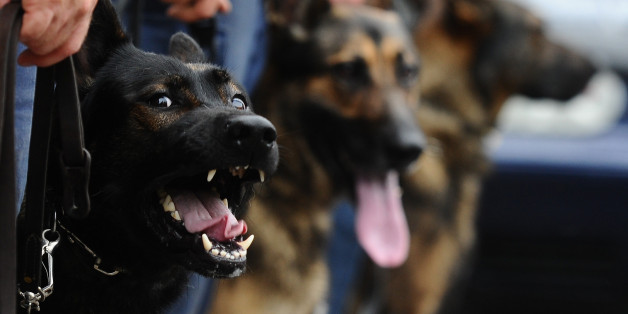 It took a squad of deputies wielding batons, a police dog, a stun gun and a 10-minute melee to take down a suspect in the throes of "excited delirium," Florida police say.
Conrad Hopper, 17, was allegedly naked on Saturday as he attempted to attack responding deputies with a "large clock, which had numerous sharp utensils protruding from its entire border," the Sun Sentinel reports.
It's the second time in less than a week that the Palm Beach sheriff's deputies have had to fight off a naked person on a violent rampage.
Hopper's alleged victim, a 15-year-old boy, called deputies at about 6 p.m. after he said Hopper entered his home while intoxicated. Hopper reportedly touched the victim's face and tried to remove his glasses. Then Hopper started shouting nonsense and took off all his clothes.
The victim evaded Hopper by fleeing into the back yard, where he jumped onto a trampoline and over a neighbor's fence. When deputies arrived, Hopper was back inside the house, completely naked.
"He was breaking random things inside the house and still shouting nonsensical things, such as, '5, 6, 7, 8, grandma, girlfriend, 1, 2, 3, 4,'" a deputy wrote in the incident report. "Conrad was moving erratically around the kitchen with clinched fists and pacing aimlessly."
That's when the epic battle started between Hopper, a police dog, deputies and a stun gun.
Deputies told the person to lie face down. Instead, deputies say, he sat down upright, then stood back up and moved toward them. As a police dog was released toward him, he started to punch the dog with closed fists and tried to gouge out the dog's eyes before kicking and punching at other deputies who tried to stop him.

One deputy's arm was fractured as he continued to fight all four deputies and a dog. In the report, one deputy says he hit the teen several times with a baton in his back/rib area, but it did not change his behavior, so they used a stun gun on the suspect's back which brought him to the ground so he could be restrained and handcuffed.
Eventually, Hopper -- still thrashing around -- was subdued and given a shot of Valium on a gurney, "which still had no effect in calming him down," police said. He faces charges of burglary, criminal mischief, resisting arrest, battery of a police dog and several counts of battery on a law enforcement officer.
Just last week, deputies shot dead a naked suspect who reportedly bit a teen's face and attacked a retired cop. Anesson Joseph, 28, charged at deputies before he was shot down in West Palm Beach last Wednesday, police said. The incident was likened to "something you see out of a zombie movie."