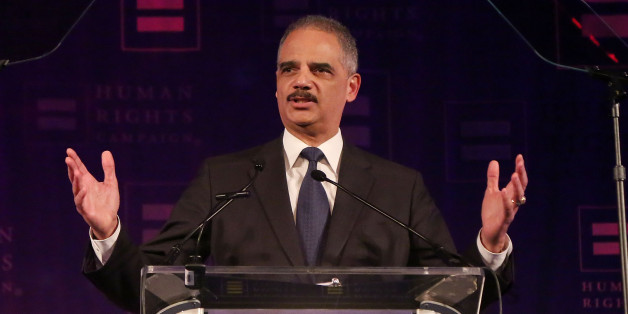 WASHINGTON -- Attorney General Eric Holder plans to stay at the Justice Department "well into" 2014, the nation's top law enforcement official told The New Yorker in a story published Monday.
The story also paraphrases Holder saying that he does plan to leave sometime in 2014, but a Justice Department spokesman later maintained that Holder didn't go quite that far.
"As the Attorney General has said repeatedly before, he plans to stay well into this year. He has made no plans yet beyond that," the spokesman told The Huffington Post.
"I've still got things I want to do ... I'm going to be here for a while. ... What I've said is, I'm going to be here certainly into 2014. Well into 2014," Holder said, according to a transcript provided by the spokesman.
Jeffrey Toobin, author of the New Yorker article, said the quote released by the Justice spokesman "is accurate."
Holder, who has recently put a lot of effort into calling attention to voting rights and criminal justice reform issues, has been liberated by his lame-duck status, Toobin writes in The New Yorker.
If he stays on until December 2014, Holder would become the third-longest serving attorney general in history. He served as deputy to the second-longest serving attorney general, Janet Reno.
The Justice Department provided HuffPost with this longer extract from the Dec. 19 interview:
Toobin: "And how long are you going to be the Attorney General? You mentioned 'as long as I'm Attorney General'…"
Holder: "Well, you know, I've still got things I want to do. I mean, I've got this fight, this criminal justice reform stuff that I talked about, I guess, in August at the ABA [American Bar Association]. I've got financial cases I'm still working on. So I'm going to be here for a while."
Toobin: "Do you want to put any more specific -- this is like Journalism [101] ... I have to ask all these questions. If you don't want to tell me, don't tell me. Like, do you know? A year? Two years?"
Holder: "I guess, I think what I've said is, I'm going to be here certainly into 2014."
Toobin: "That's a big commitment. It's in like three weeks ..."
Holder: "I think I've said, 'well into 2014.'"
Toobin: "I see. 'Well into'? OK, very good."
ALSO ON HUFFPOST:
PHOTO GALLERY
BEFORE YOU GO
Politicians Who Look Like Disney Characters
PHOTO GALLERY
Politicians Who Look Like Disney Characters