Talk about ancient. Astronomers from the Australian National University have discovered the oldest known star about 6,000 light-years from Earth. They believe the ancient star formed around 13.7 billion years ago, shortly after the Big Bang.
A research team at the Siding Spring Observatory, which is part of the Research School, first observed the star (dubbed SMSS J031300.36-670839.3) on Jan. 2 using the SkyMapper telescope. Then, astronomers in Chile confirmed the discovery using one of the powerful Magellan telescopes.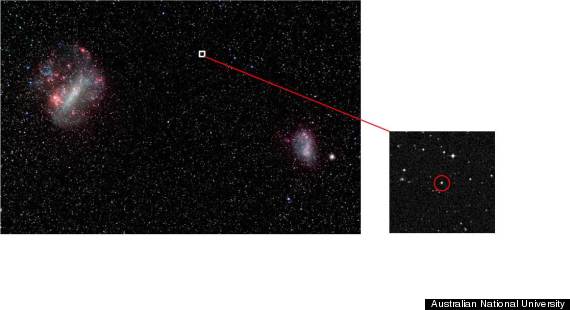 The star is located in a picturesque part of the southern sky between the Large and Small Magellanic Clouds, two galaxies that orbit around the Milky Way.
[Image credit: Mike Bessell, ANU (left); Digital Sky Survey* (right)]
Keller and the team believe the star belongs to a second generation of stars, which formed when primordial stars died out. By studying the chemical composition of the newly discovered star, researchers should be able to learn more about the first stars that formed after the Big Bang.
Previously, the title of oldest known star in the universe was held by HD 140283, which is about 13.2 billion years old. And while the newfound 13.7-billion-year-old star is currently the oldest known in the universe, there may be other second-generation stars out there.
"There's likely to be more stars like this, but they are very hard to find," ANU professor Mike Bessell, who first spotted SMSS, told The Wall Street Journal. "We have to sort through vast amounts of data to find the very few of them that are out there. It's a needle in a haystack."
*The Digitized Sky Surveys were produced at the Space Telescope Science Institute under U.S. Government grant NAG W-2166.
FOLLOW HUFFPOST