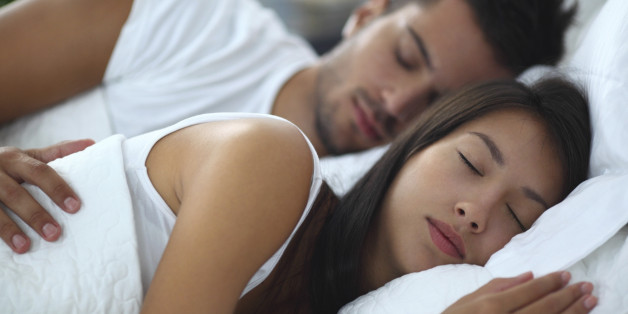 Women are more likely to experience sleep difficulties and spend more actual time in bed despite getting less sleep, compared with men, according to a new study.
Researchers from Cambridge University found that 39.6 percent of women said they never had any trouble falling asleep, compared with 63.3 percent of men. The most common sleep complaint: early awakening, which was reported by 14.7 percent of women and 11.7 percent of men.
Middle insomnia -- waking up in the middle of the night, and then having trouble falling asleep again -- was also reported by 9 percent of men and 14.7 percent of women. Sleep problems were less frequent among people who were in good health, who were working, who had higher education levels and who were younger.
The study also showed that women spend a longer time in bed than men, but spend less time sleeping. Specifically, they spend 15 minutes longer in bed but sleep for 11 minutes less.
A number of factors seem to be associated with the amount of time spent sleeping and the amount of time spent in bed, with health being one of them. Specifically, women in poor health had a worse proportion of time in bed to time spent sleeping. And people with a lot of sleep woes -- including having trouble falling asleep, waking up in the middle of the night and having trouble going back to sleep -- had the lowest sleep proportion, while those who didn't have any of these sleep problems had the highest sleep proportion.
The study was published in the journal Sleep Medicine and was based on 8,480 people between ages 45 and 90 from the European Prospective Investigation of Cancer (EPIC)-Norfolk prospective cohort, who were surveyed from 2006 to 2007.
Other findings of the study:
- The average time people went to bed each night was 10:41 p.m.
- The average time people woke up each morning was 7:17 a.m.
- On weekends, people went to bed 12 minutes later and woke up 27 minutes later.
- Working people spend less time in bed on weekdays.
- People spend 1.5 hours longer in bed, on average, than they do actually sleeping in bed.
- Older people spend a longer time in bed, but spend less time sleeping.

SUBSCRIBE AND FOLLOW
Get top stories and blog posts emailed to me each day. Newsletters may offer personalized content or advertisements.
Learn more