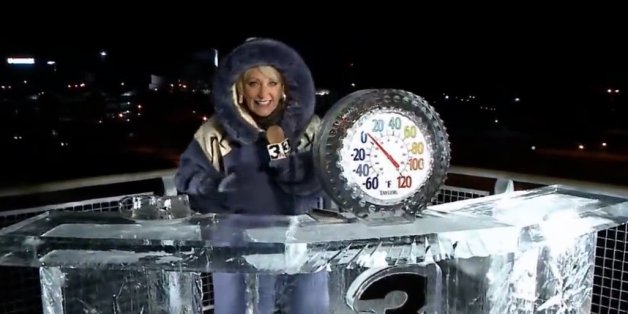 News stations are resorting to an odd stunt to show just how cold it's been this winter.
Enter the ice desk. Several local newscasts, as Poynter and FTV Live pointed out, had desks carved out of ice outside of their stations. The trend took off, with at least eight stations around the country touting their own ice desks.
There was this one in D.C.
USA! USA! RT @themarkberman: I really can't overstate this: They're broadcasting the news from a desk made of ice. pic.twitter.com/5hKww3zrKe

— The Fix (@TheFix) January 23, 2014
this one in Minneapolis:
The Ice Desk is ready for its close up! #iceicebaby #Sochi2014 pic.twitter.com/pkrMtv3xZf

— KARE 11 (@kare11) February 6, 2014
and this one in Providence, Rhode Island:
Hanging out with @NBC10_Joe at the Olympic Ice Desk in downtown Providence tonight. pic.twitter.com/gagyvxrvp9

— Mark Searles (@NBC10_Mark) February 7, 2014
Anchor Robin Swoboda even rapped about WKYC-TV's ice desk in Cleveland. The desk was in fact made out of "ice, ice, baby."
WATCH: