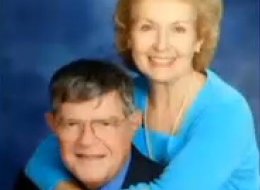 NASHVILLE, Tenn. (AP) — A package explosion that killed a Tennessee couple has friends wondering who could possibly want to harm a seriously ill 74-year-old man and his 72-year-old wife.
Friends and neighbors described Jon and Marion Setzer as kind, giving and devout.
They lived in a nice home in a semi-rural area of Lebanon, about 40 minutes outside of Nashville, and attended a local church. Jon Setzer was an attorney who handled wills and trusts, but he had been in very ill health in recent years.
Friends said he was on dialysis and had heart problems and high blood pressure, among other health issues.
Marion Setzer had formerly worked as a dental hygienist.
A blast at their home on Monday at about 5 p.m. killed Jon Setzer immediately and critically injured Marion Setzer, who died at the hospital on Wednesday.
"We are just dazed by what happened," Nashville attorney John Stark said. "Jon was one of the good guys. He was a good lawyer. He taught Sunday school."
Stark, who said he's known the Setzers for more than 30 years and attended church with them, described the former lawyer as quiet and humble man.
Investigators continue to sift through debris for clues inside the couple's red-brick, two-story home. Authorities so far have declined to describe the package or give a possible motive for the crime.
John Lloyd, a retired dentist, said he has known the family for years, first when Marion Setzer worked for him as a hygienist in Nashville and later when they attended church together in Lebanon.
"They were two of the finest people I ever knew, good Christian people who loved their children," Lloyd said.
Lloyd said Marion Setzer stopped working for him when she became pregnant with the couple's son, Jon Leo Setzer Jr. The child died at age 3 when he was mauled by a neighbor's German shepherd in 1977.
The story was front-page news at the time as officials debated whether to have the dog put down.
Bob Taylor, who lived about a block from the Setzers for many years, said they were "nice folks" and good neighbors. Jon Setzer volunteered do the legal work to set up their local homeowners association. Taylor said he and his young children all helped search for the Setzers' little boy when he went missing. Taylor and his wife had not heard from the Setzers for a few years before they learned about the explosion on television.
"My wife was home by herself," he said. "It just knocked her for a loop.
"We have no idea, no clue, not even guesses as to who might be involved. He was just a gentle man. We were just stunned by the whole thing."
Nashville attorney George Cate Jr. was in practice with Jon Setzer from 1979 until 1991, and the two continued to work in the same building when their partnership dissolved.
The former law partner described Jon Setzer as a very devout man who had once been highly organized in his law practice. But he said Setzer had trouble getting back to clients after he moved out of his office and practiced law from his home.
"In those last few years, operating out of his home, he had several complaints from clients who had difficulty communicating with him," Cate said. "I attributed his failure to respond to clients to health problems."