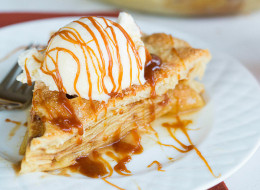 Salted caramel has quickly made its way into the mainstream dessert world. Once considered a novelty only found in artisanal shops, you can now find Chips Ahoy making salted caramel chocolate chip cookies -- and to be honest, we couldn't be more thrilled.
While we love caramel just as it is (and we would never turn it down), when it's sprinkled with salt it becomes more complex, more well-rounded and, well, a little bit more grown up. Salted caramel tastes great plain (by the spoonful), but it also makes a great addition to cupcakes, tarts, brownies and puddings.
Here are the 20 best ways you can get more salted caramel into your life:
Salted Caramel Custard

cheese1227/Food52

Salted Caramel Cupcakes

Brown Eyed Baker

Salted Caramel Pecan Tart

Dee Wilcox/Food52

Salted Caramel Buttercream Chocolate Cake

The Faux Martha

Salted Caramel Bundt Cake

Eats Well With Others

Salted Caramel Apple Pie

Brown Eyed Baker

Salted Caramel Frosting

Zac Wolf

Chocolate Caramel Cups

How Sweet It Is

Salted Caramel Apple Cupcakes

Delicious Everyday

Sweet Corn Ice Cream With A Salted Caramel Swirl

How Sweet It Is

Perfect Crepes With Salted Caramel Sauce

Egle/Food52

Salted Caramel Brownies

Annie's Eats

Salted Caramel Apple Pie Cheesecake

Brown Eyed Baker

Salted Caramel Chocolate Tort

Katie Cakes

Rice Krispie Treats With Chocolate, Toasted Walnuts And Salted Caramel

Creative Culinary/Food52

Sweet And Salty Chocolate Cake With Whipped Caramel-Chocolate Frosting

Good Thymes and Good Food

Salted Caramel Hot Chocolate

A Beautiful Mess

Salted Caramel Skillet Brownie

Eclectic Recipes

Salted Caramel Cookie Dough Truffles

The Baker Chick

Dad's Cheesecake Bars

Aida Mollenkamp
Want to read more from HuffPost Taste? Follow us on Twitter, Facebook, Pinterest and Tumblr.